Background
In early 2012, insurgents in northern Mali launched an independence campaign. President Amadou Toumani Touré was ousted in a coup d'état over his handling of the crisis, and violent extremist groups took advantage of the ensuing power vacuum to enter the fray.
In 2013, France and the African Union sent troops to help the government of Mali defeat the northern rebels. And in 2015, the government of Mali and some armed groups, namely the Coordination of Azawad Movements (CMA) and the Platform of the Movement of June 14, 2014 (Platform), signed the Agreement for Peace and Reconciliation in Mali, Emanating from the Algiers Process.
The terms of the agreement call for the decentralization of state institutions, greater representation of peripheral areas in national institutions, the integration of combatants from the signatory armed groups into the national army, and the creation of a Northern Region Development Zone to support economic growth in northern Mali.
The Independent Observer
In November 2017, the agreement's Monitoring Committee (CSA) and the Malian signatories requested that The Carter Center serve as the Independent Observer of the implementation of the agreement – a function outlined in the agreement. The Independent Observer is responsible for evaluating and reporting on the implementation of the 78 individual commitments made in the agreement, identifying hindrances, outlining responsibilities, and recommending steps to advance implementation.
Bisa Williams, former U.S. ambassador to Niger, leads the Center's observation effort. Jean Ntolé Kazadi, a former African Union official from the Democratic Republic of Congo, serves as the mission's deputy resident in Bamako. They are supported by a team in the capital of Bamako as well as personnel in the Center's Atlanta headquarters.
Since it began its work in January 2018, the Independent Observer team has participated in nearly all negotiations and activities related to the implementation of the agreement; conducted frequent visits to northern and central Mali (e.g., Mopti, Timbuktu, Gao, and Kidal) to assess the situation on the ground and meet with interlocutors who might otherwise not have a voice; participated in more than 600 meetings with various stakeholders; and published regular reports on the status of implementation – all with recommendations for advancing the implementation of the peace agreement.
The Independent Observer's work has been cited in U.N. Security Council resolutions 2391 (2017), 2423 (2018), and 2480 (2019), which encourage the Malian parties and the international community to collaborate with the Independent Observer.
Real Lives, Real Change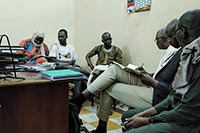 Carter Center Continues to Monitor Mali's Peace Agreement.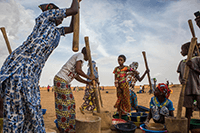 Central Malians seek solutions to the conflict that has disrupted their lives.
The Center observes the implementation of a peace agreement in Mali.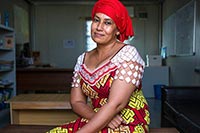 Malian mothers want peace so they can see their children.