The Carter Center's Agriculture Program worked in 15 sub-Saharan African countries between 1986-2011.
In the small agricultural community of Bondo, Ghana, Kojo Osonyame finds it difficult to suppress his smile as he walks through the fields of his fertile farm. Acre after acre bursts forth with healthy crops creating a colorful maze of peppers, eggplants, okra, cassava, and plantains.
Not long ago however, Osonyame struggled to make a living from his land. The money he earned from his crops had to be reinvested directly into the farm, leaving little leftover to support his family of four. Osonyame was frustrated from reaping little reward for his backbreaking work and searched for help to make his farm a success.
"Plenty is different since I've been working with SG2000," he said.
For more than 20 years, the Carter Center Agriculture Program, also known as SG2000, has worked in 15 sub-Saharan African countries, helping more than 8 million small-scale farmers double or triple crop yields in countries where malnutrition is a constant threat. In 2008, the program launched a large-scale extension project in its focus countries of Ethiopia, Mali, Nigeria, and Uganda. In response to high food prices in Africa, The Carter Center is assisting farmers in the countries to grow rice or improve the quality of their rice, a food staple of which African countries do not produce enough for self-sufficiency and that has become increasingly expensive to import.
The Carter Center's Agriculture Program, also known as SG2000, is a partnership between The Carter Center and the Sasakawa Africa Association. The program was founded in 1986 to help struggling African farmers increase their crop yields. By providing less than an acre of their land for use as "demonstration plots," farmers like Osonyame receive hands-on education about drought-resistant, nutritionally rich plants such as quality protein maize, which has nearly the same protein content as milk; better land preparation, effective herbicides; and improved storage methods to preserve harvests.

Although The Carter Center has ceased its agricultural work in Ghana after a successful 17 years, farmers continue to practice skills gained through the SG2000 program.

Osonyame applied the techniques he learned to his own farm and quickly noticed that he spent fewer hours laboring in his fields while still improving his crop yield. The increased income from his larger harvests allowed him to buy livestock and diversify his crops. Now he manages money in multiple accounts and sets aside a specific amount for his farm.
"I now call myself a manager because I now manage my farm," he smiled.
Encouraged by his success, Osonyame wanted the rest of his community to thrive from his new found knowledge. He joined SG2000 to help local farmers to learn the new agricultural techniques. He acknowledged that initially some in the village resisted his advice.
"When I began to teach, most people didn't know about quality protein maize. They liked local maize better. They saw it as sweeter. They did not want to apply knowledge of planting in a straight line because it took much time and it was tedious," he said.
Osonyame knew that not only would SG2000 techniques improve the bounty of farmers' harvests but the nutritionally-superior foods would improve the health of the village's growing children.
"So I told them, 'you must try it small.' It would be worse to learn later that you could have done something that would benefit your children. There is a relationship between a healthy child and a happy community," he said.
Osonyame continued to ask farmers to consider the benefits that the new techniques would provide for their families, and eventually he noticed that more and more people were listening.
"I contacted SG2000 about quality protein maze and sold it to all farmers, so they could have access to it and we can all share the same health. Now the children are all strong because they eat all the right foods," he grinned.
Learn more about the Center's Agriculture Program
Kojo Osonyame once struggled to make a living off his farm. Learning new agricultural methods through SG2000 helped him yield larger harvests and diversify his crops. Now he teaches these methods to others in his community.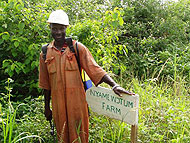 Preparing to spray his okra crop with an environmentally-friendly pesticide, Osonyame poses briefly outside the entrance to his farm.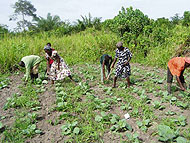 Workers weed rows of cabbages on Nyame Wontum Farm. SG2000 techniques include planting crops in straight lines to speed weeding and harvesting processes.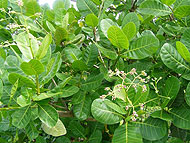 Flowering cashew nut trees promise a generous crop of nuts on Nyame Wotum Farm.