May 20, 2009
New York Times journalist Nicholas Kristof recently traveled to Liberia to explore progress against sexual and gender violence there and the impact of the Carter Center's rule of law project.

At the invitation of President Ellen Johnson Sirleaf, The Carter Center has been working in Liberia since 2006 to help the government and people of Liberia strengthen their justice system as an essential prerequisite for sustaining peace. The Center works with Liberia's Ministry of Justice to build capacity to provide the foundations of justice and rule of law at both the national and local levels.

Center efforts include rural civic education in eight counties on new and existing laws and teaching citizens how to seek redress for illegal acts through the formal justice system. In response to citizens' needs, the Center helped establish a program of community legal advisors and also helps historically marginalized groups, such as women and youth, link their concerns to national policy debates.

Kristof interviewed a community legal advisor in a Carter Center-supported program, Caroline Doe of the Justice and Peace Commission, about how her interventions have protected women in rural Liberia. Read more about Caroline Doe in Kristof's blog.

The Carter Center's work is highlighted in Kristof's May 21 New York Times column and video.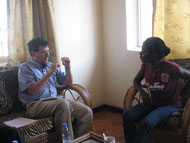 (Click enlarge)
Nicholas Kristof interviews Carter Center local partner Caroline Doe of the Justice and Peace Commission. 

(Click to enlarge)
A woman selling palm-oil talks with Nicholas Kristof at a market in Monrovia, Liberia.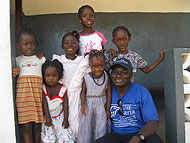 (Click to enlarge)
Carter Center staff Pewee Flomuku with children at a clinic for survivors of sexual and gender-based violence.