Nov. 29, 2007
Although the country's decades of violence are over, Liberia's women continue to face their own private wars: marital rape, domestic abuse, poverty. The Carter Center, at the invitation of Liberia's Ministry of Justice and in partnership with community-based organizations in the West African country, is helping close the violence gap through local education programs and governmental capacity building.
Involved with Liberia since 1991, when invited by West African leaders during the country's first civil war to assist in the peace process, The Carter Center observed Liberia's 1997 and 2005 elections and has worked there in many other ways over the years. In 2006, the Center initiated a rural justice program, which includes small grant support for five community-based organizations, conflict mediation training, community forums, and meetings with high-level ministry officials to develop public information messages based on local justice needs.
Liberia's new laws, instituted following the 2005 elections and relatively unknown by most of the country's citizens, include legislation that provides protection from - and prosecution of - acts that previously were kept silent. Earlier laws also ensure inheritance rights for women and other protections for all Liberians.
"In the past, the question of gender violence was almost a taboo," said Liberia's Minister of Justice Philip A.Z. Banks III. "People didn't talk much about it, and if it occurred, it was a secret. But the new educational thrust of having people fully informed will stand as a deterrent: when they are made public, there are consequences."
While no countrywide studies have been conducted on the incidence of violence against Liberian women, a recent survey by the U.S. Centers for Disease Control and Prevention in Lofa County reported that more than 61.5 percent of women have been exposed to intimate partner violence at some point in their lives.
Carter Center attorney Fatu Coleman is assisting the Ministry of Justice to establish a gender crimes unit, which will "expedite the prosecution of persons involved and to send a message that we will be prosecuting - and prosecuting expeditiously - so that people will not believe that they can commit those kinds of offenses and rely on the past inability of the Ministry or the courts to deal with those issues," Banks said.
Many Liberians are surprised when they learn of the new laws, their rights and avenues for justice.
"People don't know that rape is a crime and if you rape a woman, or you rape a child, you can go to jail," said Oscar Dolo, executive director of the Modia Drama Club, one of the groups supported by The Carter Center.
"This is the first time that a group is going from village to village to educate people about common law practice and about the rights of people under the constitution," he said.
"We have had violence for 40 years and people want to know more about the rule of law. The Carter Center is helping the average Liberian know about their rights," Dolo said.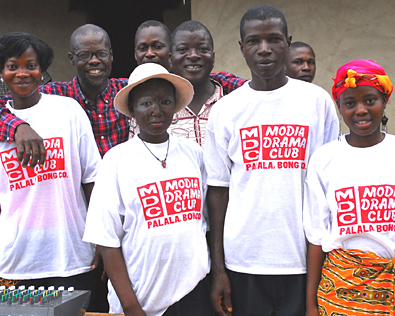 View Slideshow: Strengthening Liberia's Rule of Law >
Read More
The Carter Center Assists Liberia's Ministry of Justice in Strengthening Rule of Law >>
Carter Center Partners with Traditional Leader of Liberian Women >>
Q&A With Oscar Dolo, Director, Modia Drama Club >>
The Carter Center in Liberia >>