Oct. 3, 2018
Information has the power to transform lives. But only if you can access it.
In 2014, the Carter Center's Global Access to Information program conducted a study that found that women in Guatemala have a harder time than men accessing information to which they're entitled. This includes information about things that could make enormous differences in their lives – information about government benefit programs, about laws that protect them, about business and educational opportunities.
There are many reasons for this inequity.
Poverty and illiteracy rates are higher among women. Many are too busy running a household and caring for children to take a bus to a government office to file a request. In a culture dominated by machismo, some are afraid to ask for information for fear of retribution.
The Carter Center is helping women in Guatemala exercise their right of access to information in a number of ways. We're working with government agencies to encourage them to proactively disclose information, setting up information kiosks in marketplaces and inviting public officials to share information important to these women, partnering with local organizations to hold awareness-raising sessions about women's right to access information, and employing information liaisons who traverse their communities helping women file and follow up on information requests.
In the following videos and stories, we'll introduce you to some of the people working with us to help improve women's access to information as well as some of the women who've gotten information that's changed their lives for the better.
Travels with Magda
Magdalena Leon is a Carter Center information liaison in the department of El Quichė in the Guatemalan mountains.
Every morning, she rises early, puts her laptop and WiFi hotspot in her backpack, and traipses across the pastures that surround her family's home to catch a bus to town. From there, she often catches a second bus to whatever small village she's working in that day, meeting with women where they live to help them obtain information they need.
Join Magda, as her friends call her, on a day in the life of an information liaison.
Chickens for Pasajcab
One of Magdalena Leon's clients is Violeta Jax Ixcoy, who enlisted Leon's help to file an information request that eventually led to more food for her entire village.
A Pension for Blanca Nieves
Magdalena Leon isn't the only liaison helping women in Guatemala improve their lives. In the hot, Western department of Chiquimula, Dina Moscoso also travels from village to village filing and following up on information requests. One of her clients was Blanca Nieves Valdės, an elderly woman who had dropped off the government benefit rolls and was no longer getting her pension. With Moscoso's help, her future is brighter and her pocketbook fuller. Read her story »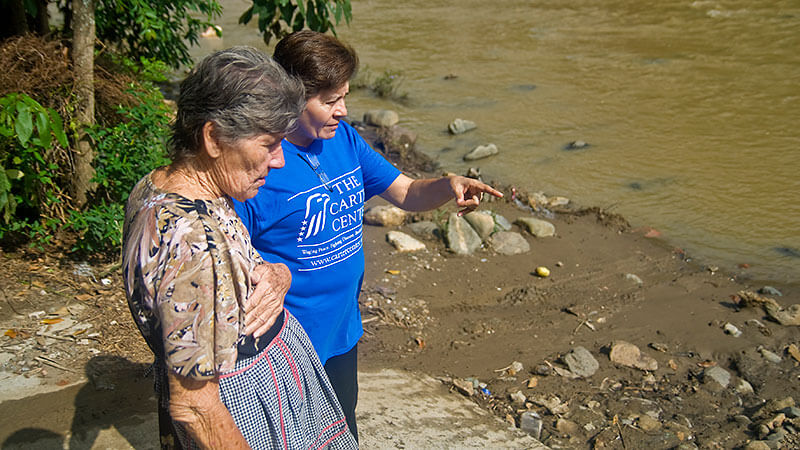 Learn more about the Center's work with women and the right to access information »