June 27, 2007
In May, The Carter Center and the Nigeria Ministry of Health celebrated the delivery of 1 million praziquantel treatments for schistosomiasis in Nigeria's Delta, Nasarawa, and Plateau states since the schistosomiasis program's inception in 1999. In partnership with Nigeria's health authorities, the Carter Center's Schistosomiasis Control Program is the largest and one of the only initiatives currently treating the disease in the country.
It is estimated that approximately 22 million Nigerians, including 16 million children, are affected by schistosomiasis -- a parasitic infection that causes anemia, bladder dysfunction, kidney and liver disease, and impaired learning in children. The disease can be prevented and controlled with a single, annual dose of the drug praziquantel.
No company donates praziquantel on a large scale, so the Center's distribution is limited to the amount it can afford to purchase. The 1 millionth treatment of the drug marks a milestone in the Center's work to bring a more enjoyable and healthy life to those who are living in Nigerian communities endemic with the parasitic disease. The Carter Center hopes the hard work and success of its partners in Nigeria will kick-start a nationwide initiative with increased government funding that will address the silent plague of schistosomiasis in the country.
Carter Center Photo: Louise Gubb
(Click to enlarge) 

Schistosomiasis is especially devastating to children, weakening the body's resistance to other infections and preventing children from reaching their full potential.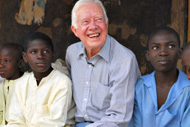 Carter Center Photo: Emily Staub
(Click to enlarge)

Former President Jimmy Carter visited Dauda Usman (left) and other children suffering from schistosomiasis during his Feb. 15, 2007, visit to Nasarawa North, Nigeria. President Carter visited the highly affected community to bring national attention to the country's need to make disease prevention methods and treatments with the medicine praziquantel more accessible in its rural and impoverished communities. Read more about President Carter's recent visit to Nigeria. 
Learn more

Carter Center Schistosomiasis Control program >>

View slide show: Schistosomiasis in Kwa'al, Nigeria >>

Read about children suffering from schistosomiasis >> 

Read Chicago Tribune feature on schistosomiasis: "River Parasite Eats at Children" >>
 
Listen to NPR's audio broadcast, "Making a Case for Schistosomiasis," featured on "All Things Considered" >>
 
Schistosomiasis: New York Times Feature Examines Vicious Cycle of Disease >>