When she began work as a job counselor almost 10 years ago in Atlanta with refugees from the Democratic Republic of the Congo, Valerie Harden never imagined she would one day play a role in the restoration of their war-torn country.

Since 2008, she has been deputy field director of the Carter Center's Kinshasa office, based at Human Rights House, and is responsible for implementation of all project activities in consultation with local staff, consultants, national, and international partners.

"I have a longstanding interest in Congo," she said. "Before working at The Carter Center, I studied and wrote reports on the DRC for a research company focused on political conflict in Africa. I also worked with Congolese refugees as a job counselor for the International Rescue Committee. Hearing first-hand their experiences added another perspective to my understanding of the reality of the Congo, one which went beyond abstract study of events."

Ms. Harden joined the Carter Center's Human Rights Program staff in 2004, working on the Center's human rights defenders forums and global human rights intervention cases for former U.S. President Jimmy Carter. Her participation in the Center's 2006 election observation mission to the Democratic Republic of the Congo led to frequent post-election site visits, and sparked a greater desire to work directly with the Congolese people in their own country.

"I wanted to gain hands-on experience working with local communities," Ms. Harden said. "It's a historic moment for the DRC, which is transitioning from years of authoritarian rule and conflict to democracy."

As deputy field director, Ms.Harden coordinates the Center's work with grassroots organizations throughout the DRC.

"These groups are already providing important services on the ground in their communities," she said. "We help these local experts be more effective in their work through training events and material support. The NGOs in our network are capable and dedicated, and their activities have enourmous range because they respond to the needs they see."

Their outreach includes activities such as distribution of infant formula to malnourished children in Kinshasa's Kisenso district, monitoring local government budget development and expenditures, pro bono legal services to victims of sexual violence, work with schools to incorporate human rights education into the curriculum, vocational and literacy training to widows, production of shadow and other technical reports, and public awareness campaigns.

Witnessing abject poverty in one of the most mineral-rich nations on earth has been the most difficult part of her experience, Ms. Harden said.

"The biggest adjustment for me, without a doubt, is the extent and depth of Congolese people's poverty, in terms of the most basic needs. Nothing prepares one for this level of poverty, particularly as it affects children," she said.

Children whose parents can't afford tuition payments--which cost between $100-150 annually in a country where the GNP per capita is $140--don't attend school, she said. "It's heartbreaking and so discouraging to see very young boys and girls during the day selling fruit or tissues when they deserve to be in school."

U.N. agencies, with local and international NGOs, are trying to address this problem that seems to be neglected by the government, Ms. Harden said.

"An organization in our human rights network, Anges du Ciels (Angels of Heaven), set up a primary school with reduced tuition fees of $45 per school year by using volunteer, unpaid teachers and administrators. Without reduced tuition, school would be inaccessible for these students," she said. "I visited this school and can't imagine these wonderful children not having the opportunity to be there."

Success stories such as this can be found throughout the country, Ms. Harden says, despite overwhelming odds.

"The Congo has a wealth of local organizations that are creative, resourceful and make the most of very limited means to bring services and advocate for broader change," she said.

"I can't help but be struck by how much work is needed to help improve the lives of the Congolese people and move the country from its present state to one similar to neighboring countries, in terms of infrastructure, basic governance, justice, security," she added. "But, citizens here have lived in a country with virtually non-existent public services and now have greater means to exercise their civic rights and hold leaders accountable for how public resources are allocated."

She is hopeful for Congo's future and believes the Carter Center's presence is making a difference in the country.

"It's important that we are involved in the DRC. The Carter Center is highly respected, and our work is valued by the Congolese people," she said.

"I don't believe that anything is unsolvable. It's just a matter of priority and attention."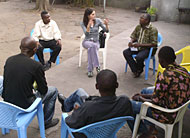 Carter Center Photos
Valerie Harden (top) joins a discussion with Father Gilbert Kalakumu and members of Church Saint Gonza.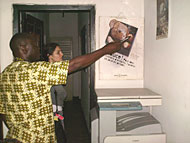 The deputy field director works closely with NGO members such as Robert Ilunga of Les Amis de Nelson Mandela, a Human Rights House partner.