Lama Naja represents hope for Lebanon's political future. A politically independent young person in a country full of strong political passions and fierce party loyalties, she instead voted on June 7 for the people she thought may keep their campaign promises.
"My friends and I debate politics all the time," she said. "They think I'm some sort of alien for being independent, but many of the people my age follow leaders who shouldn't be leaders. I ask them, why are you following this person who does not do what he says he will do?"
Lebanon held successful parliamentary elections on June 7, 2009, the results of which were accepted peacefully by both sides. The Carter Center deployed 60 observers from 23 countries to assess voting, counting, and tabulation processes, led by former U.S. President Jimmy Carter and former Prime Minister of Yemen Abdul-Kareem al-Eryani.
While the process did fall short of several of Lebanon's international commitments, most notably to fully protect the secrecy of the ballot, it was conducted with enhanced transparency and in accordance with Lebanon's new consensual electoral law and regulations. The 2009 electoral process also provided an important foundation for additional electoral reforms, which have already been committed to by civil society and political leaders.
Naja hopes that one of these reforms will be to end Lebanon's complicated system of assigning parliamentary seats based on the religious affiliation of a district. She is also encouraged by the presence of international observation groups like The Carter Center.
"That's how I sense the difference between 2005 elections and 2009," she said. "People are paying attention to what happens and will push for reform."
Ultimately though, she says it is up to the Lebanese to change their country, not outsiders.
"People here are ready for change," she said.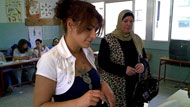 Lama Naja votes in Beirut on June 7 for Lebanon's parliamentary elections.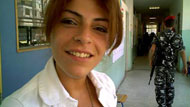 All photos: Carter Center
Lama Naja outside her polling station after voting.