Sept. 4, 2009
Reprinted with permission from The Lancet, Volume 374, Issue 9692, Pages 785 - 786, 5 September 2009. doi:10.1016/S0140-6736(09)61590-7
Onchocerciasis causes skin and eye disease that can be prevented by an annual dose of ivermectin. The African Programme for Onchocerciasis Control (APOC) was originally founded on the premise that, after 5 years with external funding provided jointly through a World Bank Trust Fund and a non-governmental organisation (NGO) partner, community-directed treatment with ivermectin would continue "completely independent of external support for upwards of 15 years".[1] In other words, it would be placed in the fiscal hands of local government and communities.

APOC funding for the two adjacent states of Imo and Abia in Nigeria was provided for 5 years (1998-2003) and 1 169 982 treatments were reported in 2003, the last full year of APOC/World Bank core external funding. These donors continue to provide reduced funding for "sustainability plans" (mainly capital equipment replacement and special activities). The Carter Center and Lions (the NGO partners in Imo and Abia states) withdrew dedicated funding for ivermectin distribution activities in the two-state area in mid-2004.

As external funding stopped, decreased treatments were promptly noted (figure), dropping by 59% to 483 757 in 2005. We also saw concomitant increases in year-end ivermectin tablet inventories, suggesting that the drop in treatments we saw was due to actual programme dysfunction and not under-reporting. Alarmed by the drop in treatments and the failure of the state governments to increase their contributions to the programme as external donors left, the Carter Center/Lions resumed funding of the programme (mainly for per diem and fuel to allow for training and supervision) in 2006. This action restored treatment activity to 2003 levels by 2007, and the inventory backlog was fully adjusted by 2008 (figure).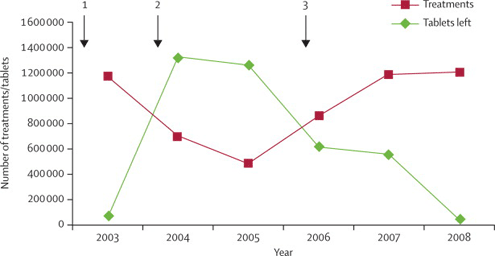 Figure
Ivermectin treatments vs end-of-year tablet inventory in Imo and Abia States, Nigeria, 2003-08. 1=APOC funding ceases, 2=NGO funding ceases, 3=NGO funding resumes.

Government contributions are key to the sustainability of onchocerciasis programmes.[2] The Summit of Partners of Onchocerciasis Control, held in 2006 in Yaoundé, Cameroon, urged onchocerciasis-endemic countries to "make annual budgetary commitment for onchocerciasis control".[3] However, in the absence of such government funding, it is unacceptable to abandon such a valuable disease control programme. Advocacy is needed to insist on whatever funding a government is able to give, while exploring innovative approaches to integrating onchocerciasis programmes with other similar public health programmes based on mass drug administration to create the visibility and economies of scale needed to maintain them.[3]

We represent the Carter Center and Nigerian state ministries of health who share a common interest in sustainable onchocerciasis control programmes. This study was funded by the Carter Center River Blindness Program.
Lindsay J Rakers,Frank Richards – Carter Center, Atlanta, GA 30306, USA
Emmanuel Emukah, Grace Amah, Uche Enyinnaya – Carter Center, Owerri, Nigeria
Emmanuel Miri – Carter Center, Jos, Nigeria
Jude Onyenama – Imo State Ministry of Health, Owerri, Nigeria
Nnenna Ukairo – Abia State Ministry of Health, Umuahia, Nigeria
References
1 Amazigo U, Obono M, Dadzie K, et al. Monitoring community-directed treatment programmes for sustainability: lessons from the African Programme for Onchocerciasis Control (APOC). Ann Trop Med Parasitol 2002; 96 (suppl 1): S75-S92.
2 Hopkins D, Richards F, Katabarwa M. Whither onchocerciasis control in Africa?. Am J Trop Med Hyg 2005; 72: 1-2.
3 Amazigo U, Boatin B. The future of onchocerciasis control in Africa. Lancet 2006; 368: 1946-1947.