Feb. 22, 2012
Carter Center Contact, Atlanta: Emily.Staub@emory.edu, +1-404-420-5126
ATLANTA …The Carter Center congratulates Uganda for its historic achievement of interrupting transmission of river blindness disease (onchocerciasis) in several parts of the country, freeing hundreds of thousands from risk of this scourge. Uganda's success is helping to change widely held views that river blindness is such a pervasive public health problem in Africa that it can only be controlled, not eliminated. Of the 18 endemic areas in the country, Mt. Elgon, Itwara, and Wadelai are the first to interrupt transmission of river blindness since Uganda launched its elimination effort in 2007.
"The Carter Center congratulates and supports the people of Uganda in their ambitious fight to eliminate river blindness nationwide," said former U.S. President Jimmy Carter. "Interrupting transmission in these first areas is an inspiration and a challenge to others to rethink what's possible."
Working to combat river blindness in 11 countries in Africa and the Americas, The Carter Center has assisted the Uganda River Blindness Program since 1996. The Center provides training and technical and financial support and helped to establish a state-of-the-art molecular laboratory, where essential tests are performed to verify interruption of disease transmission.
"Scientifically, we knew Uganda could and should eliminate river blindness," said Dr. Dawson Mbulamberi, Uganda's assistant commissioner of health service and national coordinator for the integrated control of neglected tropical diseases. "Pursing elimination was more cost-effective than continuing control efforts indefinitely for 3.5 million citizens at risk. Interrupting transmission in these three areas alone means nearly a half a million people will no longer need treatment and will never again be threatened by the horrendous suffering caused by river blindness."
River blindness is an age old scourge that causes immense suffering, although it is rarely fatal.Symptoms - horrible itching, skin rashes and disfigurement and diminished vision or blindness - strip people of their livelihoods and compound the cycles of poverty for generations. More than 100 million people worldwide are at risk of contracting river blindness, and 99 percent of cases are found in Africa.
In 2007, the Ugandan government launched a phased national onchocerciasis elimination strategy with The Carter Center as one of its key partners. The strategy called for intensified community-based distribution of the oral medicine ivermectin (donated by Merck as Mectizan®), health education, and in selected areas, control of the black fly, which is the vector of the disease that breeds in rapidly flowing rivers.
Following a careful review of epidemiological and laboratory evidence collected in these areas, a multinational expert advisory committee recommended to the government of Uganda that interventions be stopped in Mt. Elgon focus (involving parts of the districts of Bududa, Mbale, Manafwa, and Sironko), the Itwara focus (in Kabarole and Kyenjojo districts), and the Wadelai focus (Nebbi district), because transmission of river blindness has been interrupted. The Uganda Ministry of Health studied and concurred with that recommendation. In keeping with World Health Organization guidelines, the ministry will conduct three years of post-treatment surveillance before complete elimination of the disease in these areas can be declared. Health workers will raise awareness in the previously affected communities about why ivermectin is no longer needed before stopping treatments.
Partners in addition to The Carter Center who provide financial and technical support include: Merck and the Mectizan Donation Program, the Lions Clubs International Foundation, Sightsavers, Mr. John J. Moores, John C. and Karyl Kay Huges, WHO Uganda, the Kingdom of Saudi Arabia, the Alwaleed Bin Talal Foundation, University of South Florida, the River Blindness Foundation, African Programme for Onchocerciasis Control, Deutsche Gesellschaft für Internationale Zusammenarbeit, Bernhard Nocht Institute for Tropical Medicine, and many individual donors.
Uganda has set 2020 as its goal for nationwide elimination of river blindness. Political commitment and dedicated funding to support community-based treatments with ivermectin, health education, focal vector control, careful surveillance, and laboratory support will be critical to achieve this ambitious goal.
Ugandan river blindness elimination is the focus of a new, independent documentary film, "Dark Forest Black Fly," due out this year from Cielo Productions.
###
"Waging Peace. Fighting Disease. Building Hope."
A not-for-profit, nongovernmental organization, The Carter Center has helped to improve life for people in more than 70 countries by resolving conflicts; advancing democracy, human rights, and economic opportunity; preventing diseases; improving mental health care; and teaching farmers in developing nations to increase crop production. The Carter Center was founded in 1982 by former U.S. President Jimmy Carter and his wife, Rosalynn, in partnership with Emory University, to advance peace and health worldwide.
Visit our Web site CarterCenter.org | Follow us on Twitter @CarterCenter | Favorite us on Facebook Facebook.com/CarterCenter | Watch us on YouTube YouTube.com/CarterCenter
Multimedia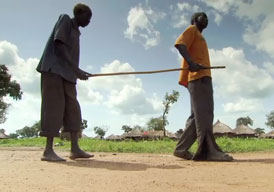 Success Against River Blindness in Uganda
Watch Video >>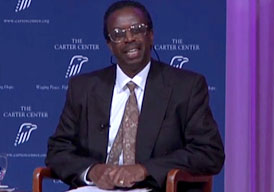 Conversations at The Carter Center: Dark Forest Black Fly
Watch Video >>
Related Resources
Learn more about the Carter Center's health work in Uganda
Jan. 22, 2008: Uganda Attempts Nationwide Elimination of River Blindness