Feb. 2, 2010
Carter Center Health Delegation to Visit Last Stronghold of the Disease

Contact: Emily Staub, The Carter Center
Emily.Staub@emory.edu
ATLANTA…Former U.S. President Jimmy Carter and his wife, Rosalynn, will travel to the world's most Guinea worm-endemic country-Sudan-Feb. 9-12, 2010, to personally appeal for completing eradication of the crippling waterborne parasite as soon as possible and to urge peace and stability in the nation as it prepares for its first multi-party elections in 24 years in April, which the Carter Center's international election observation team will monitor.

The Carter Center delegation will meet with officials in Khartoum and Juba, as well as visit a Guinea worm-endemic community in Southern Sudan, the most highly endemic region in the world. President Carter will join a representative from the Southern Sudan Ministry of Health for a Guinea worm eradication-focused press conference in Juba.

With continued hard work and dedication Guinea worm may soon become the second disease eradicated from Earth-after smallpox-and the first to be eradicated without using a vaccine or medicine. Insecurity in Sudan is the biggest threat to achieving this historic goal. Since its inception, the international Guinea worm eradication campaign has faced and overcome many challenges. Sudan has made a lot of progress, but efforts need to be intensified and peace maintained.

The Carter Center founders' visit comes on the heels of major Guinea worm successes in Nigeria-formerly the most Guinea worm-endemic country-and Niger; both countries interrupted disease transmission in late 2009, having recorded no cases of the disease for one year. When The Carter Center began spearheading the international Guinea worm eradication campaign in 1986, approximately 3.5 million cases of the disease caused unimaginable suffering in 20 African and Asian countries. Today, incidence of Guinea worm disease-also known as dracunculiasis-has been dramatically reduced to fewer than 3,500 cases located in only the most isolated and forgotten communities in southern Sudan, northern Ghana, eastern Mali, and western Ethiopia.

The Guinea Worm Eradication Program in Sudan is a unique example of the interrelated nature of peace and health issues. Sudan is experiencing a period critical to future stability as the country continues to implement the landmark 2005 Comprehensive Peace Agreement (CPA), which ended decades of civil war. Historic national elections planned for April-the first of their kind involving both the northern and southern regions-will mean millions of people moving to polling stations across the country. At the invitation of Sudanese authorities, The Carter Center launched its observation mission in February 2008 to assess Sudan's entire electoral process, and President Carter plans to return to Sudan to observe elections in April.

Since 1989, President Carter has worked tirelessly to reduce human suffering in Sudan caused by conflict, malnutrition, and disease. In 1995, he secured the longest humanitarian cease-fire ever achieved in civil-war-torn Sudan to jump start Sudan's campaign against Guinea worm disease, pilot the effort against river blindness, and provide an opportunity for children to be immunized against polio and other illnesses. The cease-fire is commonly referred to as the "Guinea worm cease-fire." Many of the disease prevention methods put in place during the unprecedented six months of relative stability were maintained by local communities, even after the recurrence of violence.

In a part of the world with very limited infrastructure, since 2005, the Southern Sudan Guinea worm program has served more than 22,000 villages through a complex surveillance and supervisory network. Last year alone, this grassroots network trained 13,067 village volunteers, 138 field officers, and 45 technical supervisors to prevent and treat Guinea worm disease at the community level, many of whom risk their lives travelling long distances to bring health education and simple water filters to remote communities. The incidence of Guinea worm disease has been reduced in Sudan from 118,578 cases in 1996 to [a provisional total of] 2,753 cases reported in 2009 - a 98 percent decrease. Since 2003, there have been no indigenous cases of Guinea worm disease in northern Sudan.

Eliminating Guinea worm disease throughout the country will strengthen health, agricultural productivity, and school attendance among Sudanese children, and leave a legacy of trained, experienced health workers.
View Feb. 12 Sudan photo blog

View Feb. 10 Sudan photo blog

View Feb. 11 Sudan photo blog

Feb. 11: Former U.S. President Jimmy Carter Visits
Last Stronghold of Guinea Worm Disease in Southern Sudan
Multimedia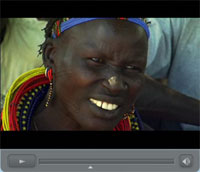 Guinea Worm's Last Stand: Southern Sudan