Feb. 11, 2008
View Brochure for Details about the Fellowships (PDF)
CONTACT: Meryl Bailey
404-420-5129
ATLANTA.... Applications are now being accepted for six one-year journalism fellowships with the Carter Center Mental Health Program. Designed to enhance public understanding of mental health issues and combat stigma and discrimination against people with mental illnesses, the fellowships begin in September 2008. Applicants must be U.S. residents.

The program is open to print, electronic, and new media journalists with a minimum of three years professional experience. Since the beginning of the fellowship program, more than 100 newspaper and magazine articles have been written, five books published, four television documentaries produced, and hundreds of minutes of radio time aired. Each fellow is awarded a $10,000 stipend and two expense-paid trips to The Carter Center in September 2008 and again in September 2009 to meet with program staff and advisers. Projects are tailored to the experience and interests of the fellows. Fellows are not required to leave their current employment.

Interested applicants should submit the following:
Online Profile:  A form to prepare a short profile detailing personal and professional information is available on The Carter Center Web site at www.cartercenter.org.
Resume:  A list of representative publications; membership in professional organizations; major journalism prizes and/or awards and year awarded.
Objectives for Fellowship and Project Description:  An informal essay not to exceed 1000 words. Describe reasons for applying and how the fellowship could benefit your body of work. Clearly outline the proposed project and a plan for carrying it out. Discuss the significance and timeliness of the topic and feasibility of the project. Detail the potential impact the chosen topic, and overall fellowship project, may have on reducing the stigma of mental illnesses. Describe the expected audience reach.
Samples of Professional Work:  Submit up to three examples of your work. At least one of the samples should be in the media form proposed. Printed materials should be in the format in which they were originally published, and electronic news reports should be airchecks. Submitted materials cannot be returned.
Letters of Recommendation:  Provide letters from two people familiar with your work, commenting on your abilities and potential as a journalist. Letters must be signed originals and printed on letterhead.
Letter of Support: Submit one letter from your organization's publisher, editor, producer, manager, or director, supporting the application. If self-employed, the third letter must come from an individual familiar with your work. Letters must be signed originals and printed on letterhead.

Deadline: Applications for the 2008-2009 fellowships must be postmarked by April 28, 2008, and the fellowships will be announced Friday, July 18, 2008, on our Web site, www.cartercenter.org. The application deadline is firm.

Direct all application materials or inquiries to: 
Rebecca G. Palpant, M.S.
Senior Program Associate
The Carter Center Mental Health Program
453 Freedom Parkway
Atlanta, GA 30307
Tel: (404) 420-5165- Email: ccmhp@emory.edu
####
The Carter Center was founded in 1982 by former U.S. President Jimmy Carter and his wife, Rosalynn, in partnership with Emory University, to advance peace and health worldwide. A not-for-profit, nongovernmental organization, the Center has helped to improve life for people in more than 70 countries by resolving conflicts; advancing democracy, human rights, and economic opportunity; preventing diseases; improving mental health care; and teaching farmers to increase crop production. Visit www.cartercenter.orgfor more information.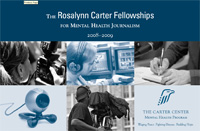 View the 2008-2009 Rosalynn Carter Fellowships for Mental Health Journalism brochure (PDF)