Dec. 4, 2008
Contact: Emily Staub, The Carter Center
Atlanta office, +1-404-420-5126
Emily.Staub@emory.edu
Watch archived video of live press conference held Dec. 5, 2008 at The Carter Center in Atlanta. | View press conference photos.
ATLANTA...Former U.S. President Jimmy Carter announced today that cases of Guinea worm disease have reached an all-time low with fewer than 5,000 estimated cases remaining worldwide. To help eliminate the remaining cases, the Bill & Melinda Gates Foundation and the United Kingdom Department for International Development (DFID) announced new commitments totaling US$55 million to support the historic Carter Center-led eradication campaign.
"Guinea worm is poised to be the second disease eradicated from Earth, ending needless suffering for millions of people from one of the world's oldest and most horrific afflictions," said former U.S. President Jimmy Carter, founder of The Carter Center. "The reduction of Guinea worm cases by more than 99 percent proves that when people work together, great positive change is possible."
The $40 million grant from the Gates Foundation is the largest challenge grant in Carter Center history. It includes an outright contribution of $8 million and encourages other donor organizations and individuals to provide an additional $32 million, which the Gates Foundation will match one-to-one. The successful completion of the challenge will raise $72 million to finish Guinea worm eradication. Since 2000, the Gates Foundation has been a valued partner in the Center's Guinea Worm Eradication Program, inspiring an outpouring of contributions from the donor community during this landmark effort.
DFID generously pledged £10 million (approximately US$15 million) to support the Guinea worm eradication campaign, and its support will be matched by the Gates Foundation. Both the Gates Foundation and DFID grants will be shared between the Center and the World Health Organization (WHO).
"We have made substantial progress; many countries that previously had Guinea worm are now free of the disease. We must now push to eliminate it completely," said Douglas Alexander, the United Kingdom's international development secretary. DFID's £10 million pledge to the Center's Guinea worm efforts underscores the United Kingdom's commitment to promote sustainable development and eliminate world poverty. DFID has helped support the Center's efforts to wage peace and fight disease worldwide since 1997.
Tackling the Final Cases
Poised to be only the second disease in human history to be eradicated, Guinea worm disease (dracunculiasis) will be the first to be wiped off the face of the Earth without a vaccine or medicine. However, the last cases of an eradication campaign are the most difficult and expensive to eliminate. Although infected cases become fewer and far between, surveillance of countries, including the smallest communities in the most remote areas, needs to be intensified to prevent outbreaks and setbacks. In the case of Guinea worm disease, which has a one-year incubation period, there is a very high cost of maintaining a broad and sensitive monitoring system and providing a rapid response when necessary.
"At this stage of the campaign, we need to redouble case containment efforts and enforce strict surveillance activities to ensure Guinea worm disease eradication," said Dr. Margaret Chan, director general of the WHO. "The task is daunting and financially challenging, but achievable. To do this in the shortest time possible, we need more than ever, the exemplary support and commitment of existing and future partners to rid the world of one of its oldest scourges."
A water-borne disease, Guinea worm is transmitted only by drinking contaminated water. The presence of Guinea worm disease in a geographic area indicates abject poverty, including the absence of safe drinking water. Those affected by the disease are often unable to go to school, farm, or do other work, resulting in increased poverty. The disease can be controlled through simple measures, such as filtering all drinking water and educating people who are infected to take precautions to prevent transmission.
The Process of Eradication
The Carter Center provides technical and financial assistance to the national eradication programs to help stop transmission. The Center's role comes to an end in each country approximately one year after the last indigenous case is detected. At that point, the national ministry of health and the WHO work together to maintain a surveillance system for three years after the last known indigenous case. The WHO helps countries establish surveillance in Guinea worm-free areas even before the infection is halted nationwide. Since the Center's work began in 1986, six previously endemic countries have been certified by the WHO as free of Guinea worm disease, and eight additional countries that have stopped transmission are awaiting certification.
Remaining Cases by Country
Today, cases remain in only six African nations. When the eradication campaign began in 1986, there were an estimated 3.5 million cases in 20 nations in Africa and Asia. Since then, worldwide cases have been reduced by 99.7 percent.
The commitments announced today follow a year of great progress: There were only 9,585 cases of Guinea worm disease recorded in 2007, reduced from 25,217 cases in 2006. In 2007, both the Ghanaian and Sudanese programs, which together accounted for more than 95 percent of all cases in 2007, achieved individual milestones, slashing cases by more than half compared to 2006.
In the first 10 months of 2008, only 4,410 cases of Guinea worm disease were reported in Sudan, Ghana, Mali, Ethiopia, Nigeria, and Niger. Cases are expected to remain below 5,000 for the year. Two countries—Nigeria and Niger—already may have reported their last case. Today, southern Sudan, northern Ghana, and eastern Mali are the main foci of eradication efforts.
Cost-Effective Impact
"The drive to eradicate Guinea worm disease is one of the world's most impressive global health success stories," said Dr. Regina Rabinovich, director of infectious diseases development at the Gates Foundation. "Using simple inexpensive tools, The Carter Center and its partners have spared millions of people from the suffering caused by this disease."
Guinea worm eradication is considered one of the most cost-effective public health efforts due to its relatively simple intervention measures, such as health education, free cloth filter distribution, and BASF-donated ABATE® larvicide applications. To date, the Guinea worm eradication campaign has raised and invested an estimated $225 million in African communities.
Working together with thousands of community volunteers and the ministries of health in affected countries, the Guinea Worm Eradication Program has coordinated, engaged, and mobilized hundreds of partners. The Carter Center-led Guinea worm eradication campaign includes core partners — the WHO, the U.S. Centers for Disease Control and Prevention, UNICEF, and national programs — as well as governments, foundations, nongovernmental organizations, corporations, and individuals.
For more information and a Guinea worm video presentation, visit www.cartercenter.org.
###
EDITOR'S NOTE
Downloadable Guinea worm b-roll packages available at www.thenewsmarket.com or contact Emily Staub for additional footage.
Up-to-date Guinea worm resources including, monthly case reporting, graphs, news articles, and human interest stories are available on the Center's site at www.cartercenter.org
THE CARTER CENTER:
"Waging Peace. Fighting Disease. Building Hope."
A not-for-profit, nongovernmental organization, The Carter Center has helped to improve life for people in more than 70 countries by resolving conflicts; advancing democracy, human rights, and economic opportunity; preventing diseases; improving mental health care; and teaching farmers in developing nations to increase crop production. The Carter Center was founded in 1982 by former U.S. President Jimmy Carter and his wife, Rosalynn, in partnership with Emory University, to advance peace and health worldwide. Please visit www.cartercenter.org to learn more about The Carter Center.
---
  Les cas de dracunculose à leur niveau le plus faible :
Le Centre Carter, l'OMS, la Fondation Gates et le Gouvernement du Royaume Uni s'engagent à apporter 55 millions de $ pour atteindrele but final d'éradication
5 décembre 2008
Contact: Emily Staub, The Carter Center
Atlanta office, +1-404-420-5126
Emily.Staub@emory.edu
ATLANTA...L'ancien Président américain Jimmy Carter a annoncé aujourd'hui que les cas de dracunculose n'avaient jamais été à un niveau aussi faible puisqu'on compte moins de 5 000 cas dans le monde, d'après les estimations. La Fondation Bill & Melinda Gates et le Département du Royaume Uni pour le Développement international (DFID) ont annoncé un nouvel engagement à hauteur de 55 millions  de $US pour soutenir la campagne d'éradication historique déployée par le Centre Carter.
"La dracunculose sera la seconde maladie éradiquée de cette planète, mettant un terme à toute cette souffrance endurée inutilement par des millions de personnes pour une des calamités les plus anciennes et les plus horribles de ce monde, » fait savoir l'ancien président des Etats-Unis, Jimmy Carter, fondateur du Centre Carter. « Ce recul de plus de 99% dans le nombre de cas de dracunculose prouve à l'évidence que, si les gens unissent leurs forces, il est possible d'aller d'un grand pas de l'avant. »
Le don de 40 millions de $ de la Fondation Gates est le plus important reçu à ce jour par le Centre Carter. Une contribution sans réserve de 8 millions de $ est faite en encourageant d'autres bailleurs de fonds et individus à apporter les 32$ restants que la Fondation Gates contrebalancera à hauteur égale au cas par cas. Défi qui sera relevé pour la somme de 72 millions de $ pour terminer l'éradication de la dracunculose. Depuis 2000, la Fondation Gates est un partenaire très estimé du Programme d'éradication de la dracunculose du Centre, inspirant un véritable flot de contributions de la part de la communauté des donateurs tout du long de cet effort mémorable.
La DFID a promis généreusement 10 millions de £ (environ 15 millions de $ US) pour soutenir la campagne d'éradication de la dracunculose et la Fondation Gates répondra à même hauteur. Les dons de la Fondation Gates et de la DFID seront partagés entre le Centre et l'Organisation mondiale de la Santé (OMS).
"Nous avons fait des progrès notables. Un grand nombre de pays affligés auparavant par la dracunculose se sont libérés à présent de la maladie. Nous devons lancer le dernier assaut à présent pour l'éliminer entièrement, » indique Douglas Alexander, secrétaire au développement international du Royaume-Uni. L'annonce de la contribution de 10 millions de £ de la part de la DFID en vue de soutenir les efforts du Centre témoigne bien du profond engagement pris par le Royaume-Uni pour encourager un développement durable et éliminer la pauvreté dans le monde. La DFID  soutient depuis 1997 le Centre dans sa quête de la paix et son combat contre les maladies dans le monde.
Donnons l'assaut aux derniers cas
En passe de devenir la seconde maladie dans l'histoire humaine à être éradiquée, la maladie du ver de Guinée (dracunculose) sera la première à être chassée de la face de la terre sans vaccin ou médicament. Par ailleurs, les derniers cas d'une campagne d'éradication sont toujours les plus difficiles et les plus chers à éliminer. Certes, les cas infectés diminuent de plus en plus et sont de plus en plus éloignés les uns des autres mais la surveillance dans les plus petites communautés des régions les plus reculées doit s'intensifier pour éviter toute recrudescence de cas et ne pas perdre de terrain. En ce qui concerne la dracunculose, qui compte une période d'incubation d'une année, il revient très cher de maintenir un système de suivi élargi et sensible et d'apporter le cas échéant une réponse rapide.
"A ce stade de la campagne, nous devons redoubler d'efforts pour endiguer la maladie et assurer la plus stricte surveillance, » indique le Dr Margaret Chan, Directeur général de l'OMS. "La tâche n'est pas des moindres et le défi financier est de taille mais nous pouvons l'assumer et relever le défi. Pour y arriver dans les plus brefs délais possibles, nous avons besoin plus que jamais de l'engagement et du soutien exemplaires de nos partenaires, actuels et futurs, pour débarrasser la terre d'un de ces pires fléaux. »
Maladie transmise par l'eau, la dracunculose est contractée uniquement en buvant de l'eau contaminée. La présence de la dracunculose dans une région géographique donnée est un signe de grande pauvreté et notamment d'absence d'eau de boisson salubre. Ceux affligés par la maladie souvent ne peuvent pas aller à l'école ni s'occuper des champs ou tout autre travail, augmentant encore leur pauvreté. La maladie peut être jugulée par de simples mesures : filtrer l'eau et éduquer les gens qui sont infectés pour qu'ils prennent des précautions afin de prévenir la transmission.
Le processus d'éradication
Le Centre Carter apporte une assistance technique et financière aux programmes nationaux d'éradication pour aider à mettre fin à la transmission. Le rôle du Centre se termine dans chaque pays après qu'une année s'est écoulée depuis la détection du dernier cas autochtone. A ce stade, le ministère national de la santé et l'OMS collaborent pour maintenir un système de surveillance pendant trois ans après le dernier cas autochtone connu. L'OMS aide les pays à mettre en place un système de surveillance dans les régions exemptes de dracunculose même avant que l'infection soit stoppée à l'échelle nationale. Depuis le début de la campagne du Centre en 1986, six pays où la maladie était endémique ont été certifiés par l'OMS comme étant exempts de dracunculose et huit autres en plus ont mis fin à la transmission et attendent d'être certifiés.
Cas restants par pays
De nos jours, des cas subsistent uniquement dans six pays africains. Lorsque la campagne d'éradication a démarré en 1986, il existait 3,5 millions de cas, d'après les estimations, dans 20 nations de l'Afrique et de l'Asie. Depuis, le nombre de cas dans le monde a diminué de l'ordre de 99,7%.
Les annonces de contributions faites aujourd'hui achèvent une année de progrès impressionnants : seuls 9 585 cas de dracunculose étaient notés en 2007, par rapport aux 25 217 cas en 2006. En 2007, les programmes du Ghana et du Soudan, représentant ensemble plus de 95% de tous les cas en 2007, arrivaient à un point tournant marquant une réduction de plus de la moitié des cas par rapport à 2006.
Pendant les 10 premiers mois de 2008, seuls 4 410 cas de dracunculose ont été notifiés par le Soudan, le Mali, l'Ethiopie, le Nigeria et le Niger. Le nombre de cas restera probablement en dessous de la barre des 5000 cas pour l'année. Deux pays, le Nigeria et le Niger ont probablement déjà signalé leur dernier cas. Actuellement, le Soudan du Sud, le Nord du Ghana et l'Est du Mali sont le centre des efforts d'éradication.
Impact efficace par rapport aux coûts
"L'effort d'éradication de la dracunculose est l'une des plus grandes réussites du monde," fait savoir le Dr Regina Rabinovich, directrice du développement des maladies infectieuses à la Fondation Gates. "Utilisant de simples outils peu chers, le Centre Carter et ses partenaires ont épargné à des millions de personnes les souffrances causées par cette maladie."
L'éradication de la dracunculose est jugée l'une des interventions de santé publique les plus efficaces par rapport aux coûts suite à ses mesures relativement simples : éducation en santé, distribution gratuite de filtres en tissu et applications du larvicide ABATE® donné par BASF. A ce jour, la campagne d'éradication de la dracunculose a réuni et investi 225 millions de $ dans des communautés africaines.
De pair avec des milliers de volontaires communautaires et ministères de la santé dans les pays touchés, le Programme d'éradication de la dracunculose a coordonné, engagé et mobilisé des centaines de partenaires. La campagne d'éradication de la dracunculose, sous l'égide du Centre Carter, compte parmi ses partenaires – l'OMS, les Centers for Disease Control and Prevention des Etats-Unis, l'UNICEF et les programmes nationaux – ainsi que les gouvernements, les fondations, les organisations non gouvernementales, les sociétés et les individus.
Pour de plus amples informations et un présentation vidéo de la dracunculose, prière de se rendre à  www.cartercenter.org.
###
NOTE DE LA REDACTION
Des métrages à télécharger sur la dracunculose sont disponibles à www.thenewsmarket.com ou contacter Emily Staub pour un métrage supplémentaire.
Des  ressources à jour sur la dracunculose notamment, notification de cas mensuels, graphiques, nouvelles, et histoires d'intérêt humain sont disponibles sur le site du Centre à www.cartercenter.org
Le CENTRE CARTER:
"En quête de la paix, dans le combat contre les maladies, et dans la recherche de l'espoir."
Organisation non gouvernementale  à but non lucratif,  le Centre Carter a aidé à améliorer la vie de personnes dans plus de 70 pays en résolvant les conflits, en avançant la démocratie, les droits humains et les possibilités économiques, en prévenant les maladies, en améliorant les soins de santé mentale et en apprenant aux agriculteurs des pays en développement à augmenter la production agricole. Le Centre Carter a été fondé en 1982 par l'ancien Président américain Jimmy Carter et sa femme, Rosalynn, en partenariat avec Emory University, pour faire progresser la paix et la santé dans le monde. Prière de se rendre à www.cartercenter.org pour en apprendre davantage sur le Centre Carter.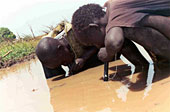 Carter Center Photo:  E. Staub
Learn more about the Carter Center's Guinea Worm Eradication Program >
Guinea Worm Photos and Video