FOR IMMEDIATE RELEASE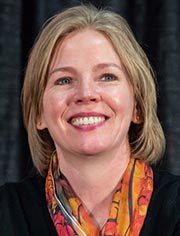 Mary S. Moore
Mary S. Moore, SVP operations & omnichannel buyer engagement, Juniper by IMC, and founder and owner of The Cook's Warehouse, has been appointed chair of the Carter Center's Board of Councilors for 2022. The board comprises 215 members, who serve as a leadership advisory group that promotes understanding among opinion leaders and the broader community of The Carter Center and its activities.
"Mary has demonstrated a sincere commitment to our mission since she joined the Board of Councilors in 2008," said Paige Alexander, Carter Center CEO. "We look forward to working even more closely with her in this new leadership role."
As Board of Councilors chair for 2022, Moore follows outgoing chair Shyam K. Reddy, chief administrative officer, general counsel and corporate secretary, BlueLinx Corporation, and past chair Dan Cathy, chairman of Chick-fil-A.
Moore is a graduate of Georgia State University. In 2020, Moore joined the leadership team of Juniper and IMC with responsibilities for both digital operations and omni-channel buyer engagement. Prior to joining Juniper by IMC, Mary in 1995 founded and led The Cook's Warehouse, award winning gourmet stores and cooking schools, combining her love of cooking and business. Moore has received numerous awards and has been recognized as a successful businesswoman and leader in the culinary industry. Among her many civic roles, Moore is a member of the Metro Atlanta Chamber of Commerce Board of Directors, governing board member of Woodward Academy, past chair of the Atlanta Community Food Bank and past president, Les Dames d'Escoffier International Board.
###
Waging Peace. Fighting Disease. Building Hope.
A not-for-profit, nongovernmental organization, The Carter Center has helped to improve life for people in over 80 countries by resolving conflicts; advancing democracy, human rights, and economic opportunity; preventing diseases; and improving mental health care. The Carter Center was founded in 1982 by former U.S. President Jimmy Carter and former First Lady Rosalynn Carter, in partnership with Emory University, to advance peace and health worldwide.