Sept. 16, 2012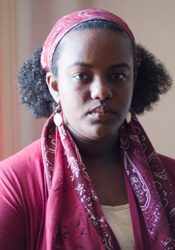 Fatma Emam
During Egypt's January 2011 revolution, human rights researcher and blogger Fatma Emam demonstrated for change in Tahrir Square day after day with thousands of other men and women. Post-revolution though, she found women's rights left behind.
"There are so many women who like me defied their families," Emam told Bloomberg News at the time. "The revolution is not only taking place in Tahrir, it is taking place in every Egyptian house. It is the revolution of fighting the patriarch."
As a young woman in a religiously conservative and patriarchal society, Emam faces risks both in her life and work as a researcher at Nazra for Feminist Studies, a feminist NGO in Cairo that seeks to advance knowledge related to gender equality and rethink gender roles.
"Even if I am afraid, so what? I just have one life so I must live it as best I can," she said. "I am a typical Egyptian woman; we are fighting for our rights every day. We exist and we are visible."
Several months after the revolution, Emam shared her experiences with others at a human rights defenders forum at The Carter Center, where a diverse group of believers, scholars, activists, and traditional leaders from 22 countries met to discuss the impact, both positive and negative, that religious and cultural institutions have on women's rights globally.
Before the forum began, Emam also led a workshop for participants about the benefits of using social media like Facebook and Twitter to change social norms and raise voices.
"Social media can be used to connect a bigger mass of people all over the world for social justice because it highlights a lot of issues," she said. "It is an alternative platform for information, not like the mainstream media."
The workshop was part of two days of technical training for activists on topics such as local fundraising, the use of social media and technology, successes and challenges of working within historically patriarchal contexts, and using the arts in advocacy campaigns.
"Advancement of human rights must come from within society, so The Carter Center works to bolster the efforts of local activists who accept great personal risks in the pursuit of human freedom," said Karin Ryan, director of the Center's Human Rights Program. "We also connect them with each other to share experiences and engage them with new audiences to expand and innovate their efforts."
The Carter Center is planning a forum to further explore the role of religion in advancing the human rights of women. This event will encourage greater efforts by the leaders of major faiths to ensure that women everywhere enjoy the respect and protections of universal human rights.
For Fatma Emam, the fight for human rights takes place every day in her life and work.
"It is all about fighting for your space. You have to push, push, push until you maximize your space. It's a long-term effort, but we need to start by talking about the problems, like how we are perceiving women, especially in religion," she said.
Click here for more information about our Human Rights Defenders Initiative >