March 4, 2013
Carter Center election observers in Kenya reported longs lines outside many polling stations on March 4, some nearly a kilometer long, and voters waited in lines for up to six hours or more.
"We were impressed by the turnout and the patience of voters who had been standing in the hot sun since 8:30 this morning in order to cast their votes at 3:30 p.m.," Carter Center Vice President for Peace Programs Dr. John Stremlau told PBS Newshour. "In all the elections I've monitored with The Carter Center, I haven't seen lines that long."
Voting was generally orderly and peaceful throughout the day. Many voters were enthusiastic, and they also were eager to share their concerns and hopes with Carter Center observers.
Fred and Lydia Gatere said they felt a sense of pride to have voted in the first election under Kenya's new constitution. Joseph Kariuki said he woke up at 3 a.m. after hearing his neighbors on their way to a polling station; he was impressed by people's commitment to vote.
The Carter Center deployed a 60-person delegation from 29 countries to observe Kenya's election, led by former Zambia President Rupiah Banda and Dr. John Stremlau.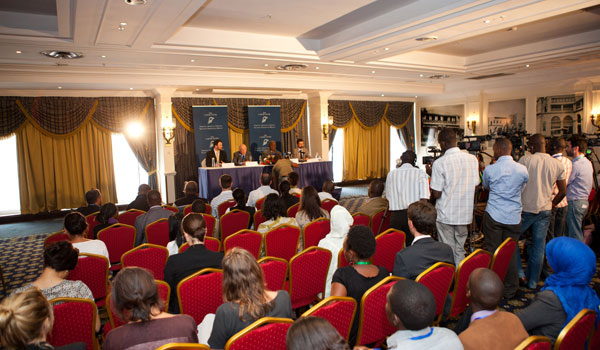 Carter Center leadership answers questions from journalists at a press conference in Nairobi on March 6, when the Center released preliminary findings from its observation of Kenya's elections. (Photo: The Carter Center/P. Munene) Read the Carter Center's preliminary statement >
Latest Media Coverage
March 4, 2013
Kenyans 'Determined' to Move Beyond 2007 Election Violence
PBS Newshour

March 4, 2013
Kenyan Election Marked But Record Turnout, Limited Violence
NPR All Things Considered

March 4, 2013
Rupiah Banda: Kenya Elections 'Went Well'
BBC