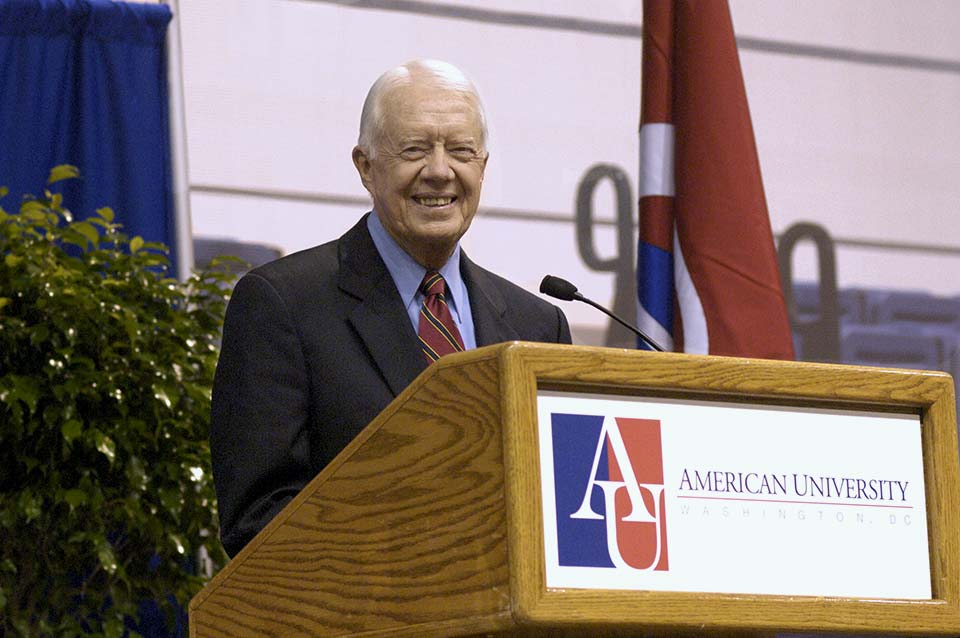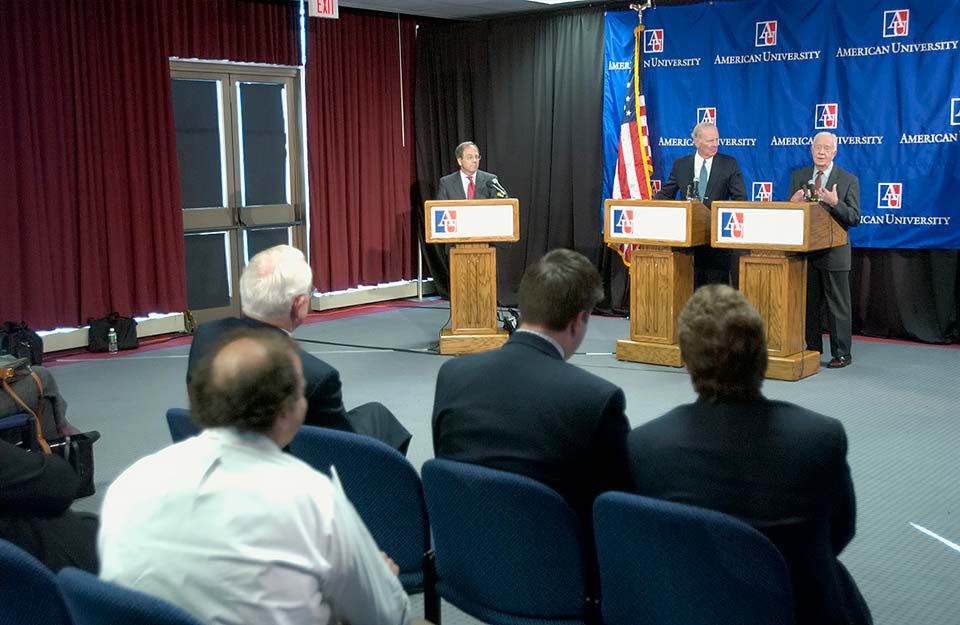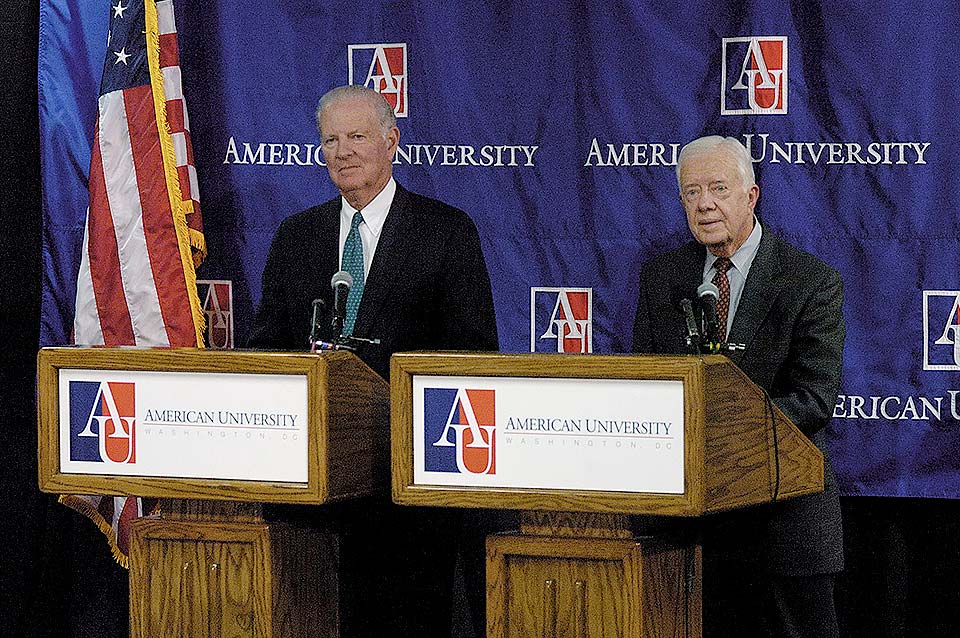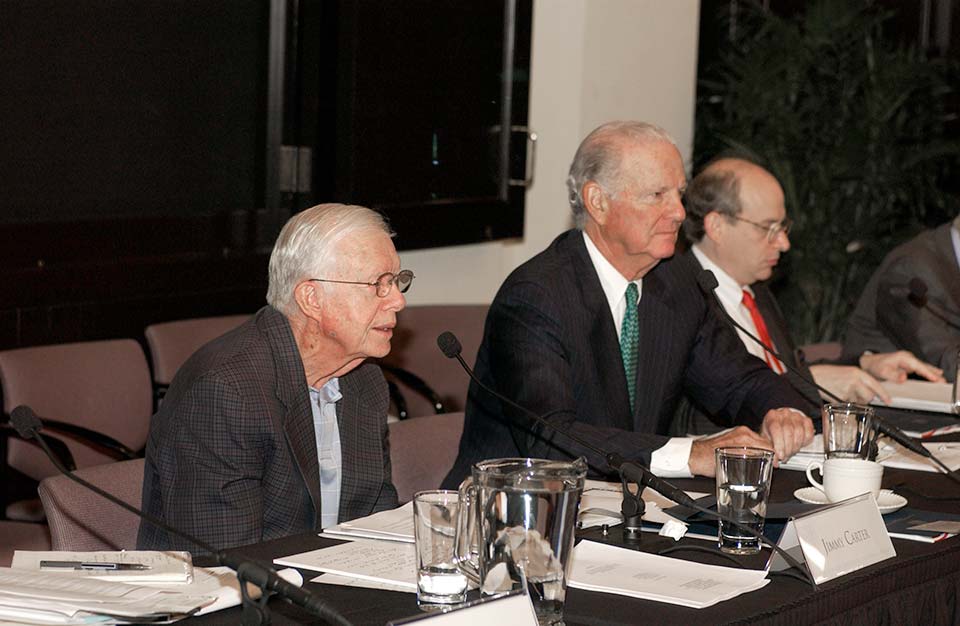 President Carter and Secretary Baker speak at events associated with the 2005 Carter-Baker Commission on Federal Election Reform. (Photo: Courtesy of American University by Jeff Watts)
The Carter-Baker Commission: 16 Years Later
April 7: "Electoral Reform and Ballot Access" A look at ways to make elections secure while also making them easily accessible to as many eligible voters as possible. Watch the recording >
April 28: "Voting by Mail" Record numbers of voters cast absentee or mail in ballots in 2020, but many continue to voice concerns about the security of the absentee process. A look at the pros and cons of voting by mail, safeguards already in place, and additional ways to enhance the security. Watch the recording >
May 5: "Voter Registration and Voter ID" will examine reforms to help ensure that states with voter ID laws don't inhibit eligible voters from participating in elections. Watch the recording >
May 17: "Technology and Elections" will explore how the development of voter-verified paper trails, risk-limiting audits, ballot-tracking platforms and the Electronic Registration Information Center system have enhanced the accuracy of elections. Watch the recording >
June 2: "Opportunities and Challenges for Election Reform" will investigate various proposals for reform at the federal and state levels and look at how the electoral reform agenda could move forward, seeking lessons from the Carter-Baker Commission experience. Watch the recording >
View the April 2022 Carter-Baker discussion »
Read the 2021 Conference Report (PDF) »
Now the organizations these two leaders founded are teaming up to present a series of virtual panel discussions that use the recommendations of the Carter-Baker commission as a framework to examine current electoral reform issues.
The Carter Center and Rice University's Baker Institute kicked things off on April 7 with a look at "Electoral Integrity and Ballot Access," bringing together two Republicans and two Democrats to talk about ways to make elections both secure and easily accessible to as many eligible voters as possible. Future conversations will focus on mail-in voting, voter registration and voter ID, election technology, and opportunities and challenges for reform.
In this Q&A, Avery Davis-Roberts, an associate director in the Carter Center's Democracy Program, talks about the original commission, why the Center and the Baker Institute thought it was important to work together, and what the goal of electoral reform should be.
Let's start by revisiting the 2005 commission. Why was it created, who was on it, and what did it do?
Confidence in U.S. elections waned after the controversial resolution of the 2000 election that pitted George W. Bush and Al Gore. Partisan politics were making it hard to reach consensus solutions to an array of challenges facing elections.
President Carter and Secretary Baker agreed to co-chair a commission—made up of 10 Democrats, 10 Republicans and one nonpartisan who were all well-versed in election issues— to examine the way federal elections are conducted in the United States.
Ultimately, they came up with 87 recommendations covering a range of issues, including voter registration, voter ID, nonpartisan election administration—and an issue that came up a lot in the last year: the need for additional research on voting by mail. Though there were some differences of opinion, all 21 members signed the report. Imagine—87 recommendations that received bipartisan sign off!
And now, 16 years later, their two organizations are coming together to talk about electoral reform. Why?
We've just gone through one of the most contentious U.S. elections in a century. Many supporters of both parties say they lack confidence in our electoral system—albeit for different reasons. Doubts like these undermine the foundation of democracy, which is something that deeply concerns both of our organizations.
It seems like it's getting harder for people from different parties to even speak to each other about these issues.
It does. People often talk AT each other rather than WITH each other. Politicians often seem more interested in scoring points than in working together to find solutions that are best for the people they represent.
Both The Carter Center and the Baker Institute are strictly nonpartisan, and we believe that frank, constructive discussion between people with opposing views is not just possible but essential. Nothing good comes from refusing to speak with people with whom you disagree.
We're bringing together smart, reasonable people with differing viewpoints in the hopes of shining a light on some of the problems confronting our electoral process and starting a national discussion about bipartisan solutions.
Ultimately, when we talk about election reform, what should our goal be?
First, I'll tell you what it shouldn't be: giving one party an advantage over another. Rather, reform should put the voter at the center of the discussion, with the objective of ensuring all eligible voters' right to cast their ballots in elections that are secure.
We should also be working to ensure that elections are conducted transparently, so that there is public confidence in the process and the results. In on our international work, we have learned that a key ingredient in public confidence is independent election management institutions that are responsible for administering elections and drawing district boundaries.