The Carter Center partners with Emory University's Institute of Developing Nations for a speaker series focused on current issues and ongoing challenges to peace and stability in Sudan and South Sudan.
Watch past events in the series >
Prominent leaders from Sudan and South Sudan have come together twice this spring to discuss how to strengthen peace and create a lasting understanding between the two countries. Meetings held in Zanzibar and Kenya were the first in a series of nongovernmental dialogues sponsored by The Carter Center to take place over the next year, in partnership with the Future Studies Center in Khartoum and the Ebony Center for Strategic Studies in Juba.
The Center has brought together key civil society leaders, policymakers, and academics in a process facilitated by General Lazaro Sumbeiywo, chief mediator of the 2005 Comprehensive Peace Agreement.
"It's only through dialogue and contact that we can move participants from their positions of not trusting each other to one where they will trust each other and collaborate," said General Sumbeiywo. "We want to be the people who get rid of the use of 'us and them' and make it 'all of us.'"

Members of the dialogue group at the first session in April 2013. (All photos: Carter Center)
At the first meeting, members focused on trust-building exercises and formed working groups to brainstorm ideas to resolve major issues between the two countries, including border issues and economic cooperation, trust building and normalizing relations, and citizenship and identity.
The sessions took place amid renewed progress and relations between the two Sudans, and so a key priority for the group is to demonstrate that they are ready to work independently yet alongside formal peace processes, including ongoing efforts through the African Union.
The Carter Center has worked in Sudan for 27 years and remains one of the only international nongovernmental organizations working in both Sudan and South Sudan. The Center aims to bridge critical communication gaps between key stakeholders to complement the formal mediation process and contribute toward the peaceful co-existence of two viable states.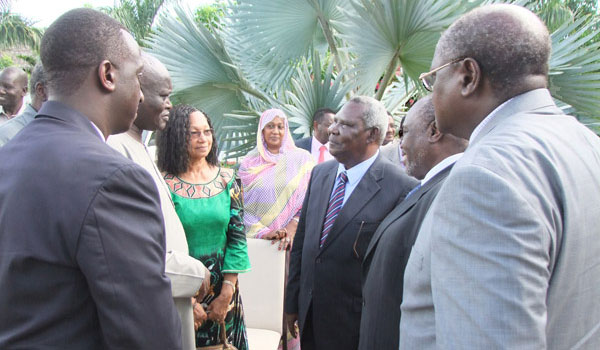 Participants in the first dialogue session talk following the completion of the meetings in Zanzibar in April 2013. From left to right: Itonde Kakoma of The Carter Center, dialogues facilitator General Lazaro Sumbeiywo, Professor Pauline Riak, Zanzibar Second Vice President H.E. Seif Ali Iddi; Ambassador Rabie Hassan Ahmed; and Ambassador David Kapya.
Related Resources
Watch a CNN report about the initiative >
Read more about the Carter Center's work in Sudan and South Sudan >