Aug. 4, 2011
Like many Liberian women, Ruth Saye has faced violence, subjugation, and loss as a result of her country's devastating civil war, but she was determined to empower women and help them to heal.
In her struggle, she found that one of the biggest barriers to women's empowerment in Liberia's developing democracy was a debilitating lack of information.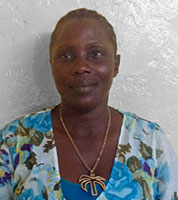 Ruth Saye
"A person deprived of information is excluded from participating in society," said Ruth, who works with The Carter Center as a freedom of information network coordinator for Nimba County. "Women have been denied when it comes to decision making within my community."
Liberian women face many challenges to access information in a culture that discourages their engagement. Many women do not know where to go to obtain information. They often lack transportation, may have received less education than men, and are afraid to ask for help because they may appear vulnerable or could be harassed.
In Liberia, women are the least likely to demand and receive information, but are perhaps the most in need.
Ruth is part of a growing nationwide effort to empower Liberian women by raising awareness about women's rights and the possibilities open to women. She works toward gender equality and promotes opportunities for women to be leaders in their communities through poster campaigns, women's counseling and skills training, sporting events, adult literacy schools, and by hosting a segment on two radio talk-shows.
For most of her life, Ruth rarely heard women speak at community meetings. Those who tried, she said, were ridiculed or ignored.
"People said that a woman doesn't have a voice, and that they must submit to their husbands. Men have the final decision," she said. "But attitudes are changing. Now, if you have a meeting, you will see that women talk and give their views. Women have seen that they have the potential to be leaders."
The Carter Center has partnered with Liberian civil society since 2009 to raise awareness of the country's freedom of information law and its ability to transform lives, including supporting the efforts of key stakeholders like Ruth to promote women's rights, engage society leaders, and advocate for the right of access to information.
Ultimately, Ruth believes that access to information brings peace through empowerment. She says, "Once citizens are informed about the way the country is managed, I think it will bring about peace and unity and erase conflict."
Related Resources
Learn more about the Center's access to information work in Liberia >