Just 15 human cases of Guinea worm disease were reported in four countries in 2021, the lowest number ever recorded. When The Carter Center started leading the global eradication campaign in 1986, there were an estimated 3.5 million cases in 21 countries.
The 15 cases mark a 44.4% decline from the 27 cases reported in 2020. Guinea worm infections in animals fell 45% in 2021.
"Eradication is an approaching reality," Carter Center CEO Paige Alexander said. "The national ministries of health, with our support, have implemented interventions that are working, and the result is a measurable reduction in human suffering and animal infections. That's what this work is all about. We need to keep pressing to the finish line."
Guinea worm disease is usually contracted when people consume water contaminated with tiny crustaceans — called copepods — that eat Guinea worm larvae. After about a year, a meter-long pregnant female worm emerges slowly through a painful blister in the skin, often on the legs or feet. A sufferer may seek relief by dipping the affected limb in water. However, contact with water stimulates the emerging worm to release its larvae and start the cycle all over again. Guinea worm disease incapacitates people for weeks or months, reducing individuals' ability to care for themselves, work, grow food for their families, or attend school.
During 2021, eight human cases of Guinea worm disease were reported in Chad, down from 12 the previous year. Four cases were reported in South Sudan, two in Mali, and one in Ethiopia. Angola and Cameroon, which each had one human case in 2020, reported none in 2021.
"Chad's Ministry of Health made significant strides against both human and animal cases in 2021," said Adam Weiss, director of the Carter Center Guinea Worm Eradication Program. "Everyone in Chad, from the national leadership to the village volunteer, has shown a strong commitment to carrying out the interventions and protecting everyone against this disease."
As for Guinea worm infections in animals in 2021, Chad reported infections in 790 domestic dogs and 65 domestic cats, Cameroon reported 10 infected dogs along its border with an area endemic in Chad, and Mali reported 16 infected dogs and one cat. Ethiopia reported two infected dogs and one cat. Significantly, Ethiopia found no infections in baboons in 2021, compared to four infected baboons in 2020. The worms that infect animals are the same species as those that infect humans; therefore, eradication requires stopping infections in both.
The sharp reductions in cases in 2021 are especially notable in light of the ongoing COVID-19 pandemic and significant security challenges — military coups, civil conflict, insurgencies — in some endemic countries. While international health workers and researchers are vital to the success of the program, the day-to-day leadership and work of maintaining community awareness and education about Guinea worm, along with monitoring for infections, filtering drinking water, and protecting water sources from contamination, are largely the domain of community and family members. So, while travel restrictions have had some impact, the campaign has not been interrupted.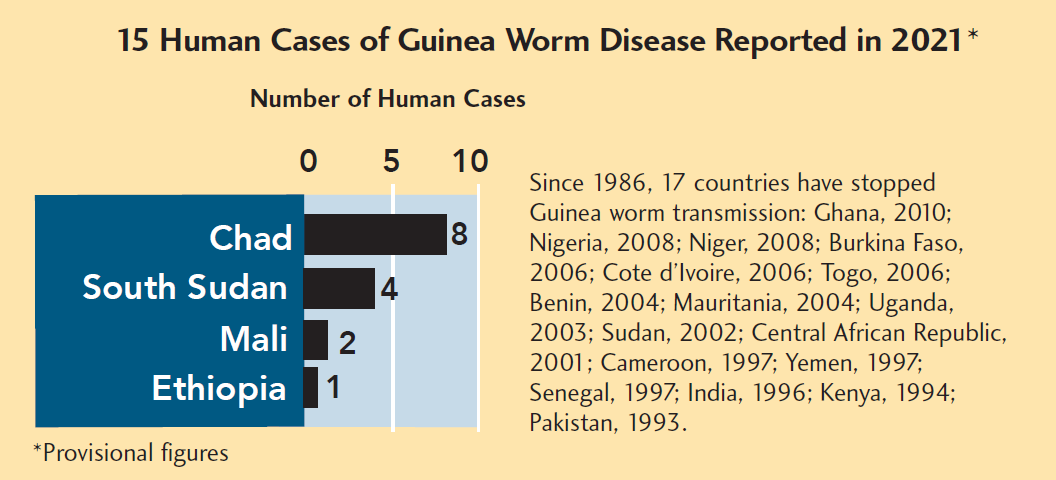 Intensive interventions such as public health education, diligent use of water filters, treatment of stagnant water sources with larvicide, and cash rewards for reporting suspected cases have contributed to the decline, said Sarah Yerian, senior associate director of the Guinea Worm Eradication Program at The Carter Center.
"Despite the challenges of the pandemic, people have really stepped up to do what's needed to reduce infections," Yerian said. "Rumor reporting is so important to this fight, and folks in Chad, South Sudan, and elsewhere are doing their part."
Learn more about the Center's Guinea Worm Eradication Program »