Aug. 6, 2012
With fewer than 1,100 worldwide cases of Guinea worm disease reported in 2011, and fewer than 600 cases expected during 2012, experts believe the quarter-century-long eradication campaign, led by The Carter Center, is at a crucial tipping point.
Once endemic to 21 African and Asian nations, Guinea worm disease, also known as dracunculiasis, is a debilitating parasitic infection acquired from drinking contaminated water. No vaccine or cure exists - the only treatment is to extract the adult worm, which can grow up to one meter long, inch by excruciating inch over a period of weeks as it emerges from a burning blister in the skin.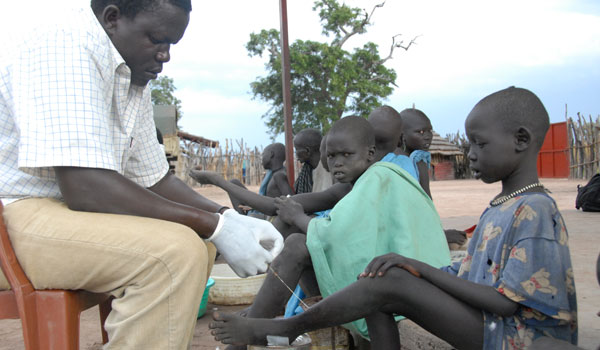 At a case containment center in Abuyong, South Sudan, in late 2010, nurse John Lotiki slowly pulls a Guinea worm from 7-year-old Ajak Kuol Nyamchiek's leg. Although 97 percent of the world's cases of the disease were found in South Sudan last year, the country is making significant progress. The country reported 1,030 cases of Guinea worm disease in 2011, down from 1,698 in 2010. (Photo: E. Staub/The Carter Center)
Fortunately, through the use of simple tools like health education and fine mesh water filters, cases of Guinea worm have been reduced by more than 99 percent from 3.5 million in 1986. Key to the program's success has been ongoing partnerships with endemic communities, which have provided networks of tens of thousands of trained village volunteers to maintain surveillance for disease cases and provide basic treatment for victims. In some areas, with Carter Center support, these same volunteers have taken on additional activities to tackle other neglected plagues like river blindness and trachoma.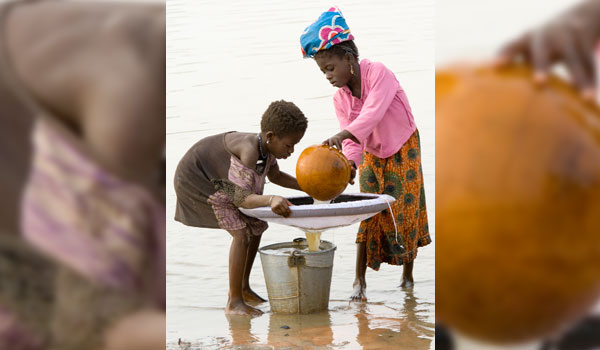 In Ghana, intense and ongoing interventions, such as filtering drinking water, have resulted in successful elimination of Guinea worm disease in the country, which in 2011 celebrated its first full year without a single indigenous case of the parasitic disease. (Photo: L. Gubb/The Carter Center)
Today, focus remains on progress being made in South Sudan - which harbors the vast majority of the world's cases. Since the 2005 peace agreement ended Sudan's civil war, courageous and dedicated local health workers have had more access than ever before to endemic communities and have reduced cases dramatically from more than 20,000 in 2006 to just over 1,000 in 2011. Continued stability in the troubled region will be critical to finishing elimination.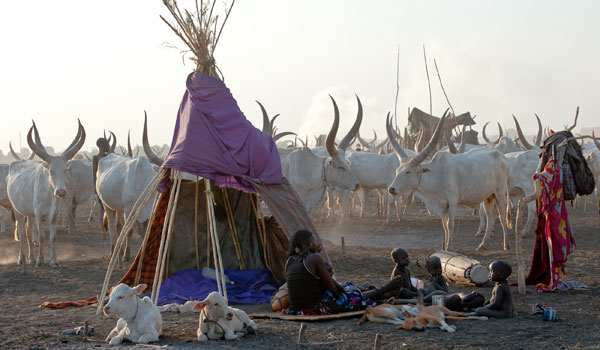 In Terekeka, South Sudan, babies play in a camp on the Nile River, where cattle herders have migrated for water. Nomadic or transient populations present a challenge for the eradication of Guinea worm because the disease can be spread unknowingly through water, and the long incubation period makes the source difficult to trace when many groups of people move from place to place. (Photo: L. Gubb/The Carter Center)
Work also continues in Chad, where an outbreak of Guinea worm disease occurred in 2010 and 2011.
Despite these challenges, Carter Center experts say they expect major progress to continue.
"A hundred years from now, people will find it hard to believe that such a horrible disease existed," said Dr. Donald Hopkins, vice president of the Carter Center's health programs. "Whether they believe it or not, I am confident they will marvel at the work their ancestors will have done to get rid of it."