Sept. 20, 2022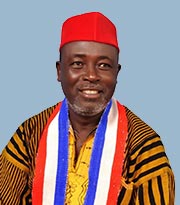 Johnny Ndebe is a national dispute resolution monitor for The Carter Center in Liberia.
Last year, I was notified that a crowd of protesters had blockaded a bridge a few hours from Monrovia, Liberia, where I work as the national dispute monitor with The Carter Center.
The demonstrators were upset that the person elected to represent them in the national legislature had not been seated a year after the election because of legal proceedings. They were blocking a key bridge to bring attention to their complaint, blocking traffic for miles in each direction.
I drove the four hours from Monrovia to the scene of the protest, where police appeared to be preparing for a violent confrontation with the demonstrators.
While on the way, I had called few traditional stakeholders from the region who I know, who have been benefiting from Carter Center training and other activities, and they informed the protesters that I was coming there to engage with them. When I got there, they recognized me, and they had confidence that I was there to listen to them and get this situation resolved.
I spent three nights on the bridge with the protesters, listening to their demands and gaining their trust. I carried their concerns to the police commander, relaying the message that they intended for it to remain a peaceful demonstration. I then escorted the commander to a meeting with the protest leaders.
The protesters then shared their food with tired and hungry police officers. The bridge was open before I left and has remained open.
I have been working with traditional leaders across Liberia over many years, helping them to understand the rule of law system and how to resolve community disputes.
If I hadn't been able to understand their system, I might have aggravated the situation.
We can build on this success to increase our relationship and our work in building peace and understanding in Liberia.