Jan. 25, 2021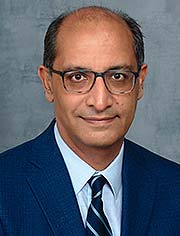 Dr. Kashef Ijaz, vice president, health programs.
The observance of World Neglected Tropical Disease Day on Jan. 30 (following the public launch of the 2030 NTD Road Map by the WHO on Jan. 28) prompts me to reflect on my good fortune in overseeing the Carter Center's tireless work to free people from an array of illnesses that cause untold misery and perpetuate the cycle of poverty.
This work started 35 years ago, in 1986, with former President Jimmy Carter's adoption of the worldwide Guinea Worm Eradication Program, well before the broader NTD elimination movement developed.
In the 1990s, building on the success and lessons of the Guinea worm campaign, The Carter Center took on efforts to eliminate several other NTDs regionally in Africa and Latin America, including the bold effort to eliminate transmission of river blindness in the Americas. Carter Center-trained community volunteers and health workers have distributed more than 800 million doses of medicines to prevent trachoma, river blindness, lymphatic filariasis, schistosomiasis, and soil-transmitted helminths. We have assisted more than 800,000 eyelid surgeries to reverse the effects of advanced trachoma, and we have supported the construction of more than 3.6 million household latrines to enhance sanitation and prevent disease.
With our partners, we have eliminated transmission of river blindness in Colombia, Ecuador, Guatemala, and Mexico; in the Americas, river blindness transmission continues only in the Yanomami focus area along the Brazil-Venezuela border deep in the Amazon rainforest. With the help of indigenous health workers, we are reaching the people there too.
Further, Ghana has eliminated trachoma as a public health problem, and numerous focus areas have stopped mass drug administration for some of these diseases because it's not needed anymore.
The Carter Center believes in community ownership and has forged strong, long-standing, mutually respectful and trusting partnerships with national governments, local communities, committed individuals, and other organizations. The Center has worked in some countries (Nigeria, Sudan, Ethiopia) for 30 years or more and has earned the trust of many local governments and communities to assist them in implementing efforts that harness the power of ordinary people to reduce disease.
Of course, our flagship NTD program is the Guinea Worm Eradication Program. When President Carter chose to take on leadership of that Herculean effort, an estimated 3.5 million cases occurred every year in 21 countries in Africa and Asia. Without a vaccine or a drug, eradication seemed like a wild dream. But, with the synergistic power of determination, hard science, innovation, and enthusiastic community trust and buy-in, the Guinea worm is being vanquished: Just 27 human cases were reported in 2020.
Furthermore, despite the worldwide disruption caused by COVID-19 in 2020, the program remained up to 95% operational and heroic work continues to be done to eradicate Guinea worm and eliminate other NTDs.
The pandemic has been a challenge for us as it has for everyone, but our resilient staff and partners have adroitly factored it into their work. Practically all organizations' NTD work in the field halted for safety's sake, but in August, following World Health Organization guidance, we assisted Uganda in carrying out one of the world's first large-scale mass drug administration resumptions. This reflects Uganda's determination to stay on track in eliminating transmission of river blindness from its final two focus areas, Lhubiriha and Madi-Mid North.
We are taking every precaution, but COVID cannot stop us. It is vitally important that we in the NTD community understand the importance of how the pandemic has exacerbated longstanding social and health disparities. This knowledge must inform current and future activities for disease elimination and eradication.
These successes and the many others I haven't mentioned are what drew me to The Carter Center and what inspire all of us to keep pushing, keep working, keep believing that we can go the last mile to eradicate Guinea worm disease and make a difference in people's lives in other ways. We remain committed to innovating and collaborating with governments, partners, and other agencies to recover from the effects of the pandemic and defeat NTDs for the benefit of humanity.
Related Resources
Learn more about the Center's Health Programs
The Carter Center: Leader in the Eradication and Elimination of Neglected Tropical Diseases