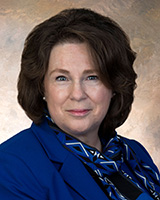 Ambassador (ret.) Mary Ann Peters is the chief executive officer of The Carter Center.
We think big at The Carter Center. Big ideas, big plans, big goals.
Guinea worm disease was a big problem—3.5 million cases a year—when we started working on it, but today we're within reach of eradicating it. Observing 103 elections in 39 countries has been a big challenge, but we've done it, and fragile democracies have benefited. Training a nationwide corps of mental health clinicians in Liberia is a big task, but we're well on our way to accomplishing it.
Recently, when the John D. and Catherine T. MacArthur Foundation offered $100 million for a durable solution to an important problem, 1,904 organizations submitted proposals. The judges selected our proposal to eliminate river blindness in all of Nigeria as one of just eight semifinalists for the 100&Change grant, with the winner to be announced in late 2017.
The Carter Center has been working since 1996 in Nigeria, where our partners in the Ministry of Health are close to stopping transmission of river blindness in two states, Nasarawa and Plateau. They hope to extend that success to the rest of the country with our help.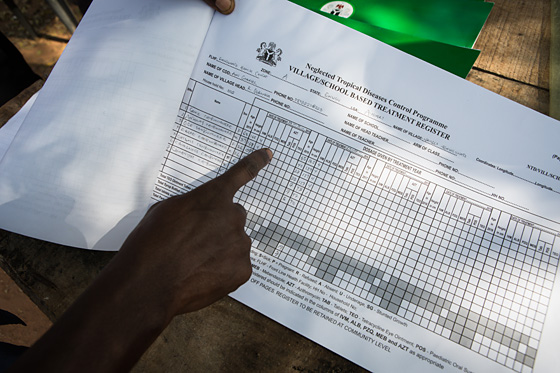 It's a small step for a health worker or volunteer to record a name in a logbook—like the one from Nigeria above — showing a community member has taken an annual treatment for a disease such as river blindness or schistosomiasis. But over many years, the list of names grows, and the community becomes healthier — a big success. (All photos: The Carter Center/R. McDowall)
Our mission statement says we take on "difficult problems" knowing we risk occasional failure but betting on sustainable success in improving life for the poorest of the poor.
It seems almost paradoxical that our big successes depend on the collective power of small, individual actions: local citizen groups taking responsibility for observing election practices; community medicine distributors treating their neighbors one by one and logging each name and dose in a book; village women summoning the courage to demand information from their governments that will enable them to improve their lives.
Engaging people at the grass roots to change their own lives means giving them the tools to handle the next challenge and establish systems and structures to address future issues. I invite you to appreciate, as I do every day, the relationship between small actions and big successes.