Jan. 14, 2016
Former U.S. President Jimmy Carter received back-to-back honors this week in appreciation of his efforts to promote peace and human rights.
On Wednesday, the LBJ Foundation presented him with its LBJ Liberty and Justice for All Award; and on Thursday, Panamanian President Juan Carlos Varela and Vice President Isabel Saint Malo presented President Carter with the Grand Cross grade of the Order of Manuel Amador Guerrero.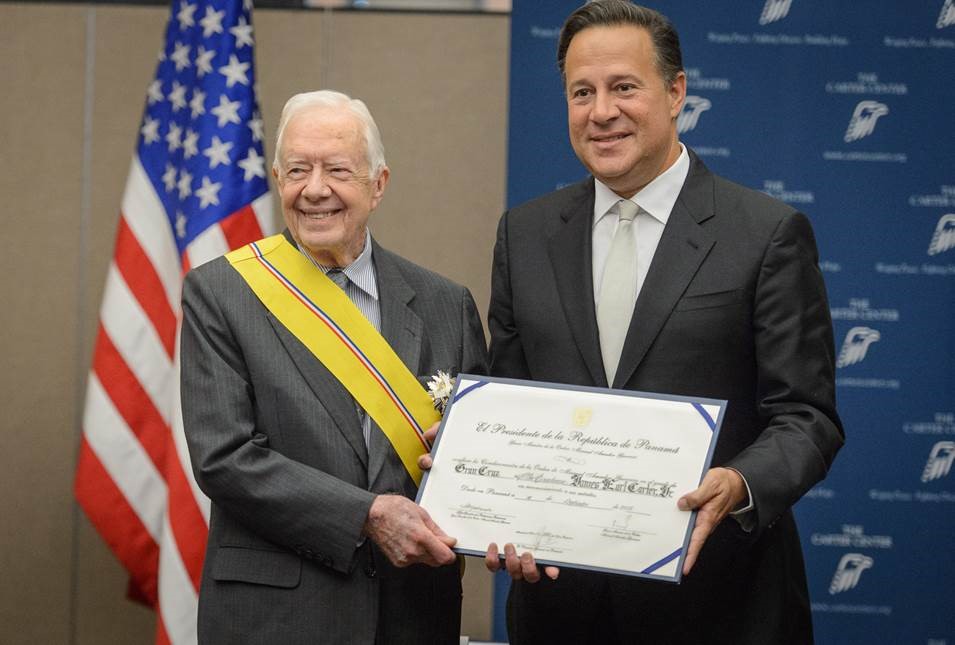 President Varela chose to honor President Carter with his country's most prestigious award because of President Carter's longtime commitment to bettering the lives of the people of Panama, most significantly by returning the Panama Canal to them.
"President Carter, as a statesman, you clearly understood that the time had arrived to put aside all geopolitical interests and build a new future for the canal," President Varela said during a ceremony at The Carter Center. "We truly understand and appreciate the sacrifice you made along the road to make all of this happen, and, from deep within our nation's heart, we thank you."
President Varela went on to point out President Carter's important role in Panama's 1989 election — the first The Carter Center ever monitored, and which it declared fraudulent.
That, he said, is, "one more reason to thank and acknowledge President Carter for helping the people of Panama to overcome our challenges on the road to restoring our democracy."
President Carter thanked President Varela and the people of Panama for acknowledging his efforts, noting that the issues surrounding the return of the Panama Canal were among the most difficult of his career.
"This is a glorious day for me that I will never forget," he said. "I am overwhelmed not only with the official reception of this very high award from the government and the people of Panama, but also with the flood of memories that this event brings forward in my heart and mind."
The Panamanian ceremony came on the heels of the LBJ award ceremony, also held at The Carter Center.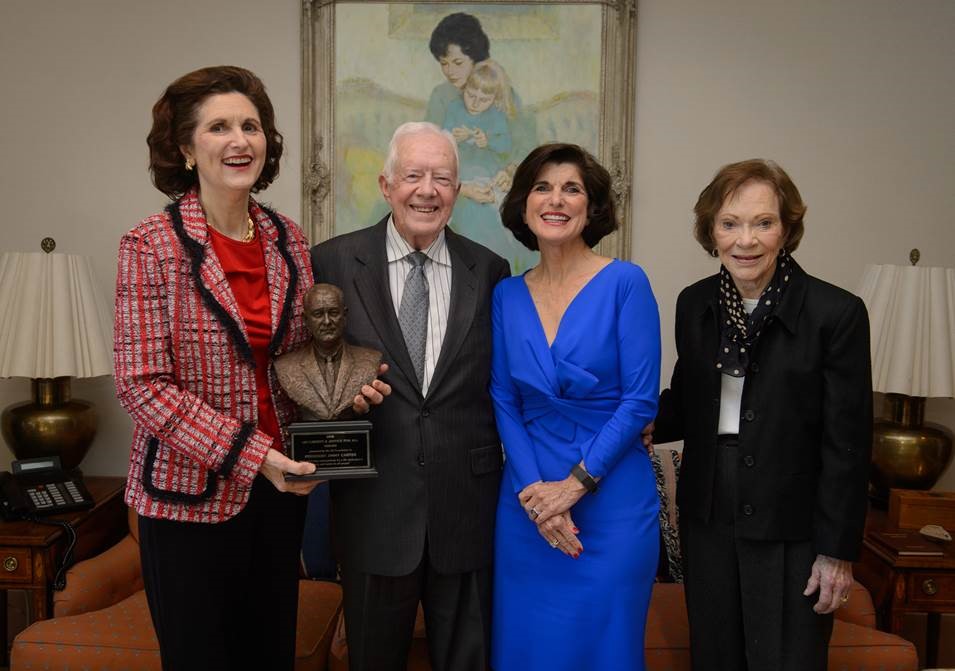 President and Mrs. Carter pose with former U.S. President Lyndon B. Johnson's daughters, Lynda Johnson Robb (left) and Luci Baines Johnson (right). (Photo: The Carter Center/M. Schwartz)
"Throughout his rich and fruitful life, President Carter has shown a deep commitment to fostering liberty and ensuring justice for all, ideals that President Johnson held dear," said Larry Temple, chairman of the LBJ Foundation, who presented the award along with Johnson's daughters, Lynda Johnson Robb and Luci Baines Johnson.
The LBJ Liberty and Justice for All Award is the foundation's most prestigious. According to the foundation, President Carter "epitomizes Johnson's passion for justice and dream of bridging racial and economic divides."
President Carter expressed his appreciation for the award.
"It is a great personal honor to be given the Liberty and Justice for All Award in the name of Lyndon Johnson," he said, "a man who helped shape my life and for whom I have the greatest admiration and appreciation."
Watch President Carter receive the Order of Manuel Amador Guerrero on Periscope >