Feb. 9, 2016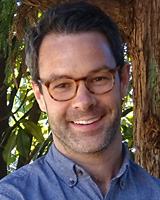 Chris Hale is associate director of the Carter Center's Global Access to Information Program. Recently he traveled to Guatemala where the Center works to improve gender inequity in the exercise of information laws.
"Information is power" is a refrain most of us have heard before. The work of The Carter Center's Global Access to Information Program rests not only on a firm belief that information is power, but that the right to access information is the basic currency for democratic participation and an active and full exercise of citizenship.
In November, Program Director Laura Neuman and I traveled to Guatemala to support our local partners as they held awareness-raising events for women. In El Quiche, our partner, Enlace Quiche, convened a sizable and enthusiastic crowd of more than 50 women, most of them indigenous.
Opportunities to immerse ourselves in the communities where our work has the most potential to make a difference are gifts that none of my teammates take for granted. This was no exception – and that particular day I got another gift as I walked around the modest downtown meeting room in the bustling center of Santa Cruz de Quiche.
I stopped to listen in on a vigorous discussion as the group, in fluidly alternating Spanish and Quiché, discussed what kinds of information they could request from the government that might be most useful for improving their lives.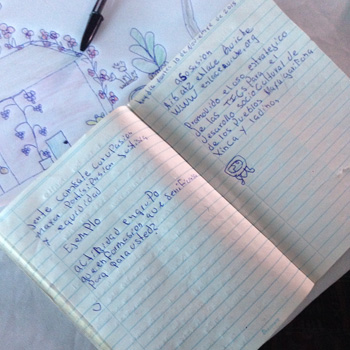 Sitting among them was a fourth-grader named Gisela, who had come with her grandmother. At the beginning of the event, I had noticed her crack open a black and white composition booklet. She kept her nose squarely planted in its pages for the duration – I assumed drawing or writing notes to friends. But as I now looked down at her notebook, I saw that in fact, she was taking notes for her grandmother, who, she told me, could not write.
Beyond being moved by the sweetness of a 11-year-old girl lending a hand to her 74-year-grandmother, seeing the words "justice," "participation," "equity," and "fights corruption" scrawled in Gisela's handwriting reminded me that for all the planning and strategizing we do in Atlanta, we can't always predict the ways our work might resonate in communities "at the end of the road," as we often say.
There were, of course, also drawings in Gisela's notebook, but in the foreground of a house surrounded by flowers was the question around which much of the work we do with women in Guatemala and elsewhere revolves: "What information is meaningful FOR YOU?"
In fact, information is power, and the Carter Center's Global Access to Information team continues to work to make the right of access to information meaningful for Gisela, her grandmother, and her community — as well as for women and men elsewhere in Guatemala and across the world.
Related Resources
The Carter Center's Global Access to Information Program has developed programming to advance the effective exercise of the right of access to information for women in select countries in Sub-Saharan Africa, Latin America, and Asia. Learn more >