Dec. 19, 2016
Jake Turner is an intern for the Carter Center's Latin America and Caribbean Program.
As an intern in the Latin America and Caribbean Program, I had the opportunity to be part of Colombia's domestic election observation to witness Colombians voting abroad on Oct. 2 in a plebiscite to approve the peace accord between the government and the Marxist rebel group FARC.  Our assignment was to observe the vote at the consulate in Atlanta.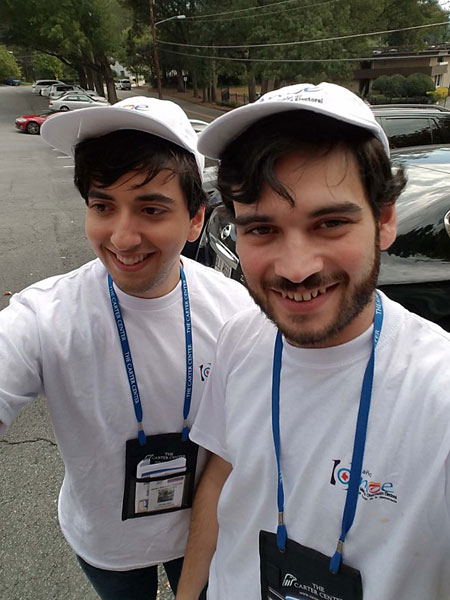 Carter Center interns Jake Turner (right) and Charles Orta observe plebiscite voting at the Consulate General of Colombia in Atlanta on Oct. 2.

The Carter Center was involved in facilitating talks to end the 50-year civil war between the Colombian government and the Revolutionary Armed Forces of Colombia (FARC) since their inception. For weeks, we excitedly awaited the final ratification of the accord, already imagining their implementation and planning for what was to come next. It seemed inevitable that a sustainable and durable peace would finally come to Colombia.
Despite the Center's hopes and efforts, that was not to be that day. The accord was rejected by a razor-thin margin, leaving the future of the peace process in disarray.
In this moment of disappointment, I learned the greatest lesson. The lesson came by stepping away from the program's official position and adopting the neutral stance of the electoral observer. What suddenly became important was not the result of the election or how people voted, but that the electoral laws and processes were followed impartially and fairly. By taking a neutral posture, I realized that the practice of democracy is not simply a means to the end of achieving goals, but truly an end in itself.
Plebiscites, referendums, and elections will not and cannot always reflect our interests, but we must remain eternally committed to promoting and preserving democracy even when we fundamentally disagree with the outcome. It was on that day, not in a moment of great victory, but rather in what was a disappointment for our program, that the Carter Center's missions and commitments became fully clear and firm.
Defeat reveals not the end of the road, but simply a new, unplanned path forward for those bold enough to journey on.
Fortunately, the Colombians were bold, pushing forward to sign a revised peace accord on Nov. 24, our Thanksgiving Day.
Related Resources
Learn more about the Center's Latin America and Caribbean Program >
Press Release | Carter Center Congratulates President Juan Manuel Santos on Nobel Peace Prize >