Dec. 2, 2016
One afternoon last summer, a 14-year-old boy from China turned up at The Carter Center bearing a check for $451.
Leo Hu and his schoolmates in Xi-an raised the money by charging admission to a play they wrote about Syrian refugees, and he flew all the way to across the Pacific to deliver it in person.
"Mr. Jimmy Carter has always been one of my idols, one of my favorite presidents, due to his achievement of building up the U.S.-China relationship," Leo explained. "My mother and I had already planned a trip to California, so I was like, 'Why can't we just come to Atlanta and visit the place to make it more emotional and personal?'"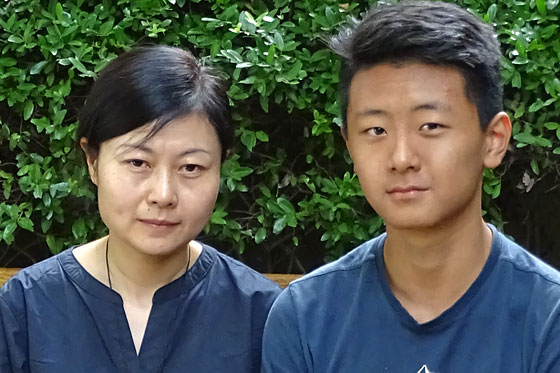 Leo Hu and his mother, Laya Zhang, visited The Carter Center last summer to hand-deliver a donation from Leo's school in China.
Last year, Leo's drama teacher assigned students the task of writing short plays about the Syrian war and refugee crisis. After he and his friends started writing, he had an idea:
The school requires students to take part in an annual community service project that usually involves raising and donating money to a local charity. But Leo thought that as an international school, they should take on an international project. And he knew just who their efforts should benefit.
"I found out that in 1982 President Carter established The Carter Center, which has tons of achievements fighting disease, waging peace, fighting for human rights and such," he said. "I went to see my principal to propose whether the fundraising from this play could go to The Carter Center, and the principal said yes."
Leo, who is fascinated by politics and dreams of someday working as a journalist, took on a role in the play as a Syrian college student who had to flee his homeland for Europe. He and his classmates spent about four months preparing for their performance, which attracted about 100 paying adults (students got in for free).
The experience transformed his view of the annual charity project.
"Most of my classmates — and even me — we took on past projects as an assignment more than because we had a desire to help someone," he said. "I learned that it's really about doing something rather than accomplishing a compulsory task in school."
After visiting the Center and spending time with the director of the Center's China Program and other staff members, he flew back home feeling inspired.
"I am leaving with some recommendations about the charity project to take back to my friends and teachers," said Leo.