March 10, 2016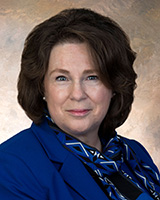 Ambassador (ret.) Mary Ann Peters is the chief executive officer of The Carter Center.
During my 18 months at The Carter Center, I've been struck repeatedly not only by the frequency of our successes, but also by the chance to appreciate them on two vastly differ­ent scales.
To know we've observed 101 elections is one thing. To speak with an old man crying as he waits to vote, because he never dreamed he would do this before he died, is something else. And while it's impressive to note that since 1999 The Carter Center has assisted health programs in nine countries in completing 489,361 eye surger­ies to prevent blindness from trachoma, the feel of a women clutch­ing my forearm in disbelief because her pain is gone and she knows she has been spared the lonely terror of blindness brings joy to my heart as I share her good news.
More than anything else, I have enjoyed experiencing the camaraderie and partnership with those we're helping, knowing we're not doing something for them, but working with them and providing the necessary tools and knowledge so they can improve their own lives.
That is what defines the Carter Center's successes! We work side-by-side with our partners, sharing both setbacks and successes — always — in search of the next success, no matter what the risk of failure.
That's the strength of true partner­ship.