Dec. 7, 2015
Success in sports is said to be 90 percent mental. Even for a physically gifted athlete like Chamique Holdsclaw, that number may be low.
The struggle with mental illness for Holdsclaw, a former basketball superstar at every level, is the subject of the film "MIND/GAME: The Unquiet Journey of Chamique Holdsclaw." Academy Award-nominated filmmaker Rick Goldsmith produced and directed the hourlong documentary with the help of a Rosalynn Carter Fellowship for Mental Health Journalism.
Mrs. Carter introduced Goldsmith, Holdsclaw, and the film at a screening for an audience of about 125 on Dec. 1 at The Carter Center.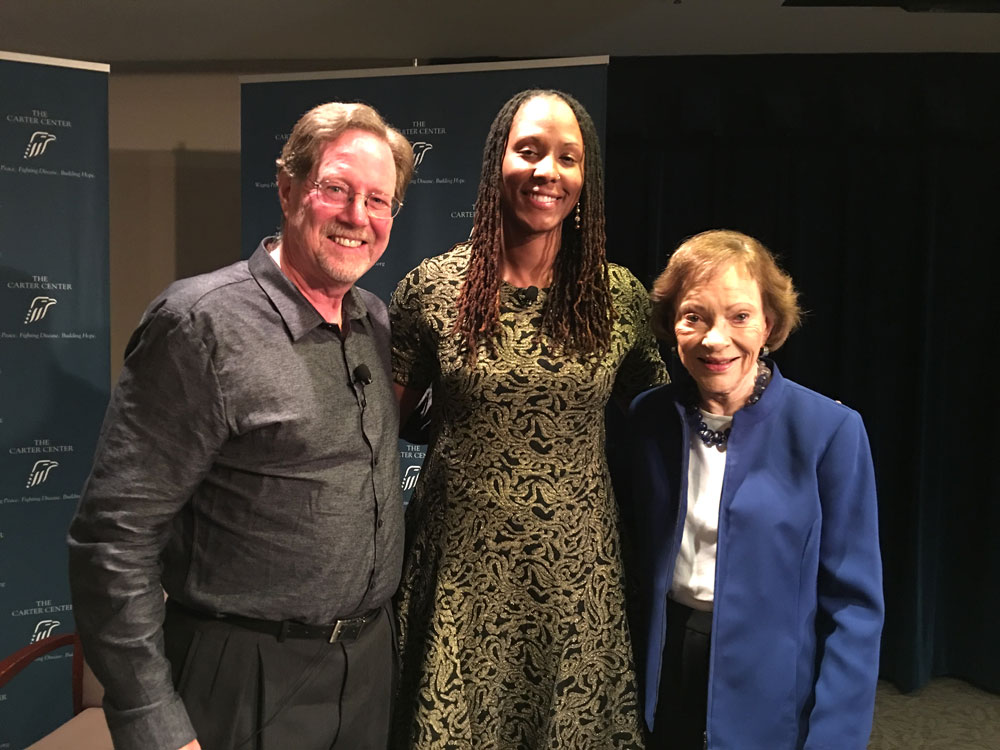 Independent filmmaker Rick Goldsmith, WNBA star Chamique Holdsclaw, and Rosalynn Carter at a screening of "MIND/GAME" at The Carter Center in December. (Photo: Courtesy B. Howard)
"MIND/GAME" documents how depression and bipolar disorder disrupted the life and career of Holdsclaw, considered by many to be one of the best basketball players – male or female – in the history of the game, and how she rose above her illness through medication, therapy, and mindfulness.
"(There's) no reason now, with the resources, to really suffer in silence anymore," she said during a post-screening Q&A. "… I really encourage you to open your mouth and talk to somebody about it."
Goldsmith and Holdsclaw have become outspoken mental health advocates. Goldsmith said they want to share "MIND/GAME" with school-age athletes and others who may be reluctant to seek help for emotional and mental issues. The nonprofit Kovno Communications is developing discussion guides and educational materials to accompany screenings.
Related Resources
Learn more about the Center's Mental Health Program »
Learn more about how to become a Rosalynn Carter Fellow for Mental Health Journalism »
Blog | Inside Mind/Game: The Unquiet Journey of Chamique Holdsclaw »