Katherine Kam is the 2012-2013 recipient of a Rosalynn Carter Fellowship for Mental Health Journalism. Kam joined Carter Center staff at the recent mental health conference "Together Against Stigma."
Civil wars, a country in ruins, a traumatized population of four million people, and only one psychiatrist for the entire West African country of Liberia. When the country's Ministry of Health invited The Carter Center to help build mental health services in the conflict's aftermath, questions abounded.
"The economy and social fabric of the nation were shredded. When we first went there, all of the government buildings had bullet holes, and there was complete destruction of the infrastructure," said Thomas Bornemann, Ed. D., director of the Carter Center's Mental Health Program. "We had skeptics even in our own ranks at home, saying, 'There's no there there. What are you going to hook your wagon to?'"
In February, Dr. Bornemann discussed the center's efforts in Liberia during the seventh international "Together Against Stigma" mental health conference in San Francisco. Former First Lady Rosalynn Carter opened the gathering, the first to be held in the United States, with a videotaped welcoming speech.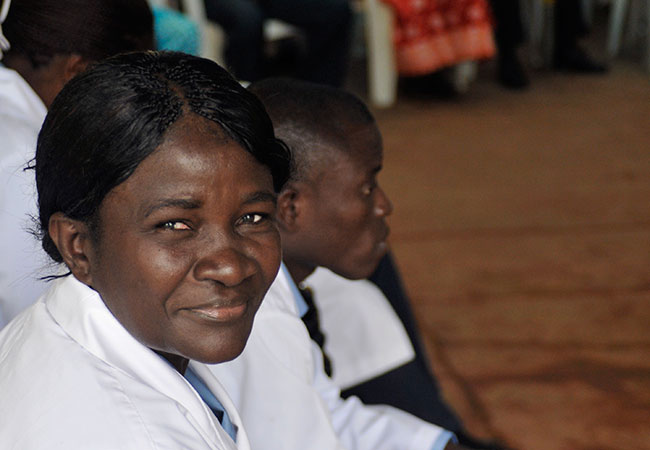 Esther Forkpa, 46, is one of Liberia's new mental health clinicians, trained through a Carter Center-supported program. Working with the Liberian government, the Center has helped to create a corps of almost 150 locally trained and credentialed mental health clinicians now serving all 15 counties in the country. (Photo: The Carter Center/P. Rohe)
The Center's Liberia Mental Health Program began in 2010. Janice Cooper, Ph.D., M.P.A., a native Liberian who survived the warfare, leads the project. During the conference, she joined Dr. Bornemann by phone from the capital city of Monrovia to discuss the program's achievements and goals, including efforts to reduce the deep stigma that surrounds mental illness.
Often, Liberians believe that mental illness is a curse from God, she said. "Somehow, you became mentally ill because you deserved it."
The program has sought to educate a wide swath of society about the facts about mental illnesses, from family members and caregivers to police officers and pharmacists, Dr. Cooper told conference attendees.
Anti-stigma strategies require training journalists, too, she said. "Journalists and the media drive a lot of the narrative around mental illness and contribute much to the stigma."
Given Liberia's critical lack of a mental health work force, The Carter Center helped train 144 mental health care workers who were deployed around the nation. The original goal was to provide coverage to 70 percent of the country. "But here we are today. We have 100 percent coverage and a minimum of three workers in every county. So it did exceed our expectations," Dr. Bornemann said.
However, Liberia has been traumatized all over again. "Just like that, Ebola came," he said. "Ebola changed the whole calculus in the country."
The international community was slow to act, but "the response is starting to have an effect," Bornemann said. "The curve has turned, and that has been very helpful for all of us."
Based on the Carter Center's longstanding work in Liberia — almost two decades — he expressed optimism: "These are people who are very resilient."
Related Resources
Learn more about the Center's work in Liberia »
Learn more about the Center's Mental Health Program »
Blog | Carter Center's Principles Put into Practice in Liberia »