Sept. 17, 2013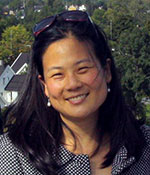 Connie Moon Sehat
Connie Moon Sehat is assistant director of the Democracy Program.
The Nobel Peace Prize, the playwright Henrik Ibsen, the pop group A-ha — this was pretty much the extent of my knowledge about Norway until recently. But this summer, The Carter Center was invited by the Kingdom of Norway to observe their Internet voting trials in connection with this year's parliamentary elections, which took place on Monday, Sept. 9. With a first visit in July, I have since learned a great deal more.
What exactly is Internet voting?  In a handful of countries around the world, including the United States, Switzerland, and Estonia, governments have experimented or are allowing their citizens to cast their votes from the comfort of their own home — or anywhere else — via the Internet. The advantages of Internet voting are clear: citizens such as the elderly, expatriates, and military members serving abroad with less physical access to polling centers on election day can better cast their votes. Some also believe that, in an increasingly wired world, the option of Internet voting will increase participation from apathetic or younger citizens.
But Internet voting is controversial. It is problematic because of issues related to security and complexity. Questions arise like: "How is the secrecy of my vote preserved?" or "How do we know that the computers are doing what they are supposed to? — Who checks the computer?"
Issues like these are at the heart of our Democracy Program work. Along with other organizations, The Carter Center led the effort to establish a "Declaration of Principles," which was endorsed in 2005 and provides guidelines for impartial election observation. The Center also is leading an effort to articulate and build consensus on democratic election standards based on international law. With the ever expanding role of technology in elections, including electronic voting, there are many unanswered questions about the technology and its effect on electoral processes, not to speak of what it means to observe them.
That is why The Carter Center participated in the observation of 2013 Norway Internet voting trials. The first trials were two years ago and included 10 municipalities and 168,000 voters. This time, 250,000 citizens in 12 municipalities had the opportunity to cast their votes via the Internet through Sept. 6. Since July, I have been working alongside another election observation organization, the Organization for Security and Cooperation in Europe's Office for Democratic Institutions and Human Rights, in observing this very different kind of election system. Although we are producing independent analyses, their collaboration in exchanging ideas about a highly technical system has been a boon.
My visits to Norway have definitely deepened my understanding of the complexities — both technical and beyond — at work in Internet voting. It has been a wonderful experience to meet and talk with the gracious people of Oslo and Fredrikstad, who have been open about their processes, hopes, and concerns related to this area. Ultimately the question of Internet voting is very much tied to what we think democracy should look like or how it should work. Issues like enfranchisement, secrecy, integrity, and the will of the people — whether in more traditional paper arenas or the electronic ones — continue to be central to voting and why the Carter Center will continue to explore new dimensions in democratic elections.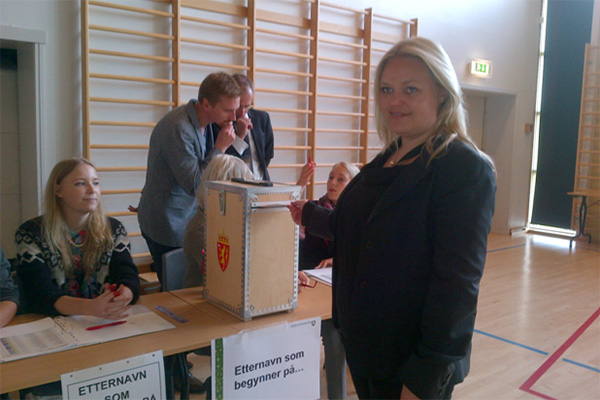 A polling station official demonstrates how to vote using a traditional ballot box near Oslo. (Photo: The
Carter Center/C. Moon Sehat)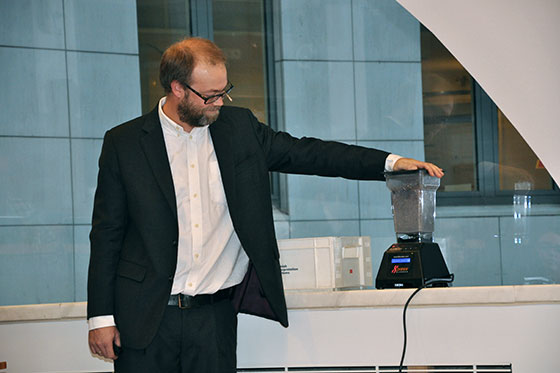 The internet voting "ballot box" stored on a USB stick after being extracted from the server. After the information is no longer needed, the USB stick is destroyed via blender! (Photo: Kaarbø Agnar)