Dec. 20, 2013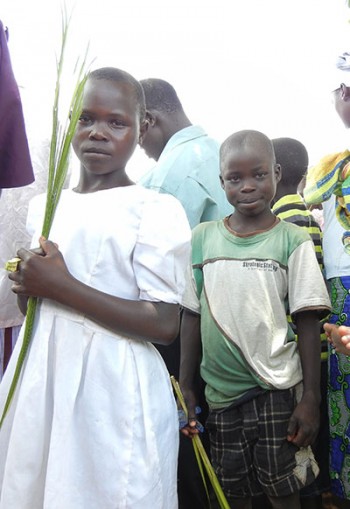 The success of the Ugandan National Onchocerciasis Program in Abeju means that fewer children will be ostracized because of river blindness.
Many of the benefits of Uganda's National Onchocerciasis Elimination Program, supported by The Carter Center, are readily apparent: reduced blindness and itching, increased productivity, and better overall health outcomes. For one community in Uganda, however, an additional benefit has been the return of the sacrament of marriage.
Abeju is a small village near the Ugandan border with Democratic Republic of Congo. As a fertile area between two rivers, it was traditionally considered the breadbasket of Zombo District. While the rivers made the land fertile, they also served as a breeding ground for the small black flies that transmit onchocerciasis, earning the disease its common name, river blindness.
"Because the women here were very involved in the gardening work, they were the most exposed to the flies, and had really bad river blindness manifestations," says Patrick Dramuke, the district onchocerciasis coordinator for Zombo. "They had very bad skin and scratched their bodies all the time."
While the disease can cause complete vision loss in some cases, more common symptoms include unrelenting itching, skin discoloration, and disfigurement caused both by the disease and the scratching done by sufferers. The itching can be so unbearable that infected people have told health workers stories of pouring boiling water over their skin to find relief.
Over time, as the women of Abeju village were repeatedly exposed to the parasite, their skin got worse, their scratching increased, and rumors that the disease was caused by witchcraft began to spread. As a result, many women were ostracized by a community that deemed them unfit for marriage. Eventually, the people abandoned their ancestral lands alongside the river to escape the perceived curse on the community and its people.
In 1993, the onchocerciasis program reached Abeju with a strategy that included distributing anti-parasite medicine and providing health education which helped to dispel the witchcraft myth. In 2011, the program increased drug treatments and started eliminating the black flies with the aim of eliminating the disease completely. Villagers now know that twice-annual doses of ivermectin (donated by Merck as Mectizan®) can get rid of the parasite forever. Today, after 20 years of ongoing treatment, the community has recovered significantly, transmission of the disease is nearly interrupted, people have returned to the riverbanks, and weddings are celebrated once again.
Health coordinator Erick Nimungu explains: "When the program helps people, and you find that all of the future is free from onchocerciasis, it is good for the community, and we start to find pride within ourselves."
Related Resources
Learn more about the Carter Center's work to eliminate river blindness >