Dec. 4, 2013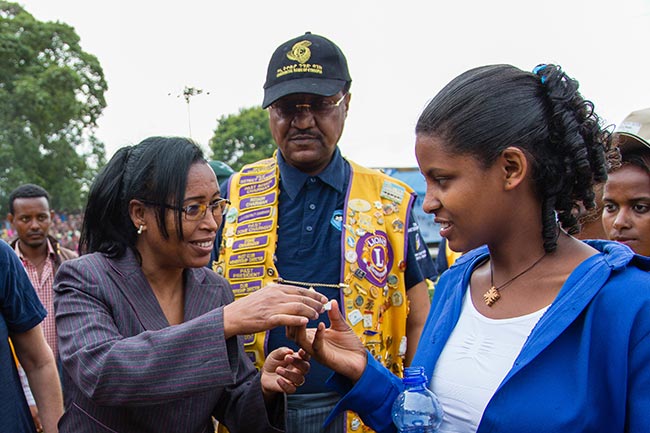 Zebidaru Zewede, a representative from the Amhara Regional Health Bureau, and Dr. Tebebe Berhan, of the Lions Club in Ethiopia, look on as Etsubdink Addisu receives the 100 millionth Carter Center-assisted dose of Zithromax to treat trachoma in Dangla, Ethiopia, on Nov. 10.  (Photos: Pfizer/W. Vazquez)
In early November, The Carter Center reached a trachoma milestone: supporting the distribution of more than 100 million doses of the trachoma-fighting drug Zithromax,® donated by Pfizer Inc. These treatments were provided over the last 11 years to trachoma-endemic communities in six African countries: Ethiopia, Mali, Nigeria, Niger, Sudan, and South Sudan.
The 100 millionth dose was distributed in Ethiopia's western Amhara region to Etsubdink Addisu during MalTra week — a widespread campaign to deliver health education, trachoma treatment, and malaria testing and treatment to approximately 10 million people in the span of one week.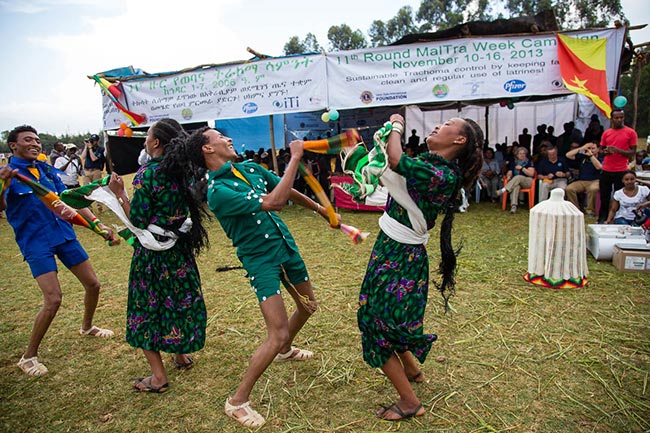 Traditional dancers celebrate the Carter Center and partners' 11th MalTra week in Amhara Region, Ethiopia, where twice each year, millions are mobilized in their local communities to intensify efforts to fight trachoma and malaria.
This ambitious and integrated approach to fight trachoma and malaria is implemented biannually by Ethiopia's Ministry of Health, the Lions Clubs International Foundation, and The Carter Center. Amhara is one of the world's most trachoma-endemic areas.
Related Resources
Pfizer, Carter Center Celebrate Milestone in Global Campaign to Fight Trachoma »
Learn more about the Carter Center's Trachoma Control Program »