Aug. 29, 2013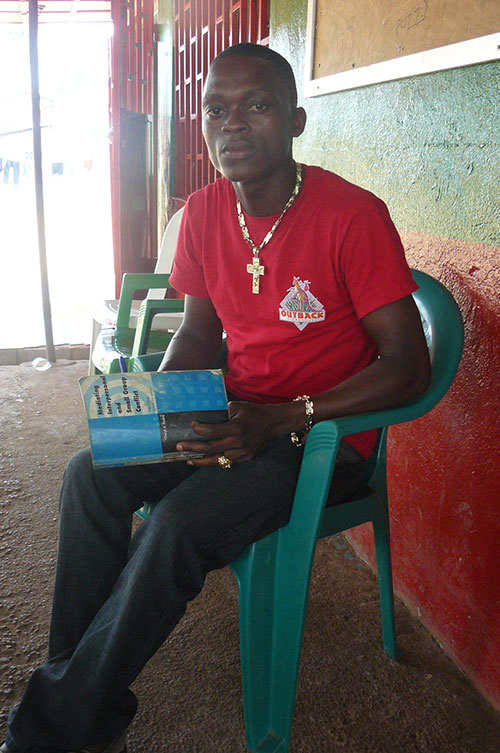 Youth leader Ralph Paye holds a copy of "Mediating Interpersonal and Small Group Conflict." Paye has attended nearly 10 Carter Center trainings on the rule of law and aspires to be a chief one day. (All photos: The Carter Center)
On Aug. 19-22, the Carter Center's Access to Justice Project, in collaboration with Liberia's ministries of Justice and Internal Affairs, trained 30 youth leaders in Kakata on conflict resolution skills and knowledge of the rule of law.
The training aimed to empower young people by giving them knowledge of  legal issues,including an overview of the Liberian Constitution and dual justice system (formal and traditional), inheritance and child custody disputes, conflict resolution, and land law with a focus on land ownership and tribal certificates.
Participants are expected to use this knowledge to assist their local chiefs in resolving conflicts and to help enhance the implementation of laws that are under the direct jurisdiction of these chiefs.
"Dispute resolution and leadership skills training helps youth see themselves as playing an important peacemaking role in their communities," said Pewee Flomoku, deputy chief-of-party for The Carter Center in Liberia.
This has been the case for youth leader Ralph Paye, who attended the Kakata training as well as several other Carter Center rule of law workshops since 2010. His local chief recognized his potential and gave him tasks to do in the community. Paye also looks for other youths who could benefit from these workshops and recommends they attend them.
"Mediation skills was the most useful training I have attended," said Paye. "I now can help resolve situations in my community before they escalate."
Paye aspires to be a chief one day, and his understanding of justice will help him be a good leader.
"Our programming addresses the root causes of youth violence," said Flomoku. "By giving youth the knowledge and the skills they need to resolve conflict, be strong community leaders, and advocate for their peers, they become active and productive members of society. This will help keep peace in Liberia."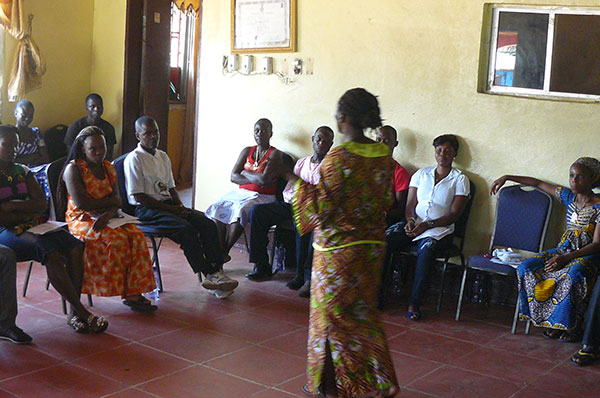 Youth training on conflict resolution skills and knowledge of the rule of law was held by The Carter Center in Kakata, Liberia, in August 2013.