Jan. 29, 2013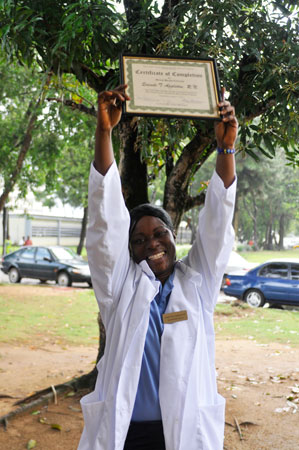 Ronald McDonald House Charities® (RMHC®) has awarded The Carter Center $200,000 to support the Mental Health Program in Liberia. The funding will be used to train mental health care providers and to build supportive community environments that will benefit individuals suffering from mental illnesses and their families.
The Center's work to train mental health professionals in Liberia is a prime example of the "train-the-trainer" style programs that RMHC supports via its Global Grants program. As part of its mental health initiative in Liberia, The Carter Center is working to create a sustainable mental health system in Liberia that will address a broad range of mental health conditions. The overarching goal over the five-year period is to improve functioning in people with mental illnesses in the most populous counties of Liberia, with specific targets of training 150 specialized nurses and physician assistants and 300 other mental health professionals, such as community mental health workers.
In addition to building a mental health work force, the Center also assists the Liberia Ministry of Health and Social Welfare by: collaborating on implementation of the national mental health plan; developing support models for family caregivers; promoting mental health advocacy; and working to reduce stigma and discrimination against people with mental illnesses.
Related Resources
Learn more about the Center's mental health work in Liberia »