Aug. 30, 2006
The afternoon sun catches Yayu Zonveni's face near the door of her otherwise shadowy home in Kinshasa, Democratic Republic of the Congo (DRC). She sits in a blue plastic chair waiting for customers to buy the soda and beer she sells from her house; 200 Congolese francs for a Coke, 400 for a beer. It takes her a day and a half to sell a case of 24 bottles, for which she receives a profit of 400 FC, or almost $1US.

If you ask her about life, Yayu, 67, says there have been difficult times but faith has pulled her family through. Things were easier when her husband, Rimmond, worked. Now 70 years old, he retired three years ago after 45 years with the district commissioner. His retirement income, and that of 500 others, has never been distributed. The money Yayu makes selling beverages buys the family food.

The story of their hardship is similar to that of others throughout the DRC; and this family, like many others, hopes that their lives, opportunities, and general well-being will improve with the newly elected government. Everyone has been affected by the corruption and lack of infrastructure plaguing the country.

DRC's five-year war ended in 2003, leaving it in a humanitarian crisis. More than three million people died in the conflict from fighting, disease, or malnutrition. The country recently held its first election in 46 years. That elections took place at all makes the Zonveni family optimistic. DRC is the size of Western Europe; there were 50,000 polling stations and more than 25 million registered voters in a country with only 300 miles of paved roads.

Across the room Rimmond sat down in a faded chair, threadbare cushions worn hard. A smile crossed his face as he expressed reflected on the relative peacefulness of election day in Kinshasa.

"People expressed their will today," he said. "The international observers showed us how to run an election correctly, democratically."

He wants organizations stay involved in the country to develop the infrastructure. He hopes things will get better for the family, especially for the children.

Trash and mud grow together along the narrow dirt road where the family lives. The street is usually crowded with the many people who cram together to live in the cement buildings lining the road.

Nine family members live in the small house-seven adult children, Yayu, and Rimmond. The couple sacrificed to send their children to school; now they depend on them for financial assistance.

"Without them we couldn't survive," said Rimmond.

Rimmond is proud of his children. Each studied a career in school like English, commerce, and engineering, but finding a job in most fields is extremely difficult in the DRC, he said.

"The will is there for people to change and succeed but not the means," he said.

His daughter, Mamy, walked through the room dressed in a colorful African dress with head scarf. She is a seamstress who works from a small room in front of their home.

Mamy dreams of having a bigger office, traveling to Europe, and getting married. Her eyes light up when she talks about sewing, which she has done for 11 years. She knows it will take time for things to improve in the country but believes a good government is the first step.

"DRC has been the world's most devastating conflict since World War II, but also a forgotten conflict," said David Pottie, assistant director of the Carter Center's Democracy Program. "These elections as a means to select those who will run the government give people like this family a chance to reforge the social contract between people and their government."

The Carter Center sent a 58-member delegation to observe the recent elections and hopes to remain present for the duration of the DRC's current election process, including the presidential runoff election.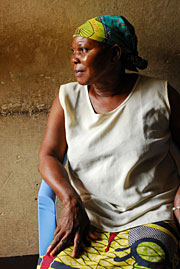 Carter Center Photos:  Deborah Hakes

Yayu Zonveni, 67, lives in a small house in Kinshasa with her husband Rimmond and seven of their adult children. To supplement her husband's small retirement income, Yayu sells sodas and beer from the house. It takes her a day and a half to sell a case of 24 bottles, for which she receives a net profit of 400 Congolese francs (less than $1 US). This money buys food for the family.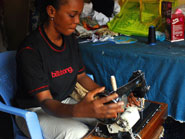 Daughter Mamy is a seamstress with a small shop in the front of their house. She loves sewing and thinks about one day having a bigger office, traveling to Europe, and getting married. She hopes things will get better in DR Congo after the election. She is proud to be Congolese, but tired of the corruption and devastation.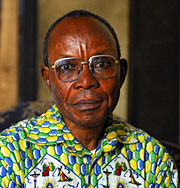 Rimmond Zonveni, 70, retired in 2003, after working for the Congolese government's internal ministry for 45 years. His retirement income was stolen, along with that of more then 500 other retirees, although he hopes that one day he will receive his promised compensation. For now, Rimmond receives a small monthly sum; the equivalent of about $90US a month. Rent on their house is about $100US a month.
Carter Center Peace Programs >
DRC Election Links

Carter Center Work in the Democratic Republic of Congo >

The Carter Center and the DRC Elections>

"These elections as a means to select those who will run the government give people like this family a chance to reforge the social contract between people and their government."

– David Pottie, assistant director, Carter Center Democracy Program