In this dispatch from Ethiopia, Kay Torrance's assistant director of public information and a member of the Center's international delegation - writes from the capital city of Addis Ababa. The country's multiparty elections - only the third in its 3,000-year old history - were held May 15, 2005.
The Carter Center election delegation to Ethiopia was led by former U.S. President Jimmy Carter, his wife Rosalynn, former Botswana President Sir Ketumile Joni Masire, and former Tanzania Prime Minister Judge Joseph Warioba. The international community, including the Center, watched electoral preparations in Ethiopia with much anticipation. Ethiopia's National Electoral Board accredited 319 international observers, including 50 from The Carter Center.
The Center deployed its observers to every region in Ethiopia, except the Somali region which votes at a later date due to logistical challenges. The delegation's leadership observed polling stations in and around the capital city of Addis Ababa.
More than 30,000 polling stations opened at 6 a.m. (considered midnight in Ethiopia), and closed 12 hours later at 6:00 pm, or noon.
Turnout for the third multi-party election in Ethiopia's 3,000-year history history was estimated at 90 percent; 26 million of the country's 74 million people were registered to vote in the election.

Provisional results are due later this month, with official results expected to be announced June 8.

Africa's oldest country, Ethiopia has a history dating back to ancient times, but its democratic experience is only about a decade old. Ethiopia was a monarchy until 1974 when the military deposed the emperor and established a socialist state. The military's rule was characterized by violent coups, uprisings, and drought, and was finally toppled in 1991 by the Ethiopian People's Revolutionary Democratic Front, a coalition of rebel forces. A constitution was passed in 1994, and Ethiopia's first multi-party elections were held in 1995.
The 1995 elections, though, were not viewed optimistically as the opposition parties boycotted them after perceived bias toward the ruling party. For this election, the opposition parties formed a coalition and organized their campaigning.
The NEB lost a Supreme Court case the week of the election challenging its denial of accreditation to members of any nonprofit organization that did not list "election observation" when it registered with the government. Any nongovernmental organization must register with the government to work in the country.
In preparation for the elections, the NEB distributed 28.6 million ballots to 31,000 polling stations. President and Mrs. Carter and Judge Warioba saw the NEB's preparations first-hand May 13. They met with NEB Chairman Ato Kemal Bedri and the board members and saw the NEB computer room, where results were officially entered.
Learn More: The Carter Center in Ethiopia
Carter Center to Observe Ethiopia Elections
Learn More: Carter Center Work in Ethiopia
Carter Center Postelection Statement on Ethiopia Elections, May 16, 2005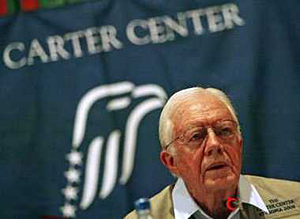 REUTERS PHOTO/Antony Njuguna 
Former U.S. president Jimmy Carter addresses the media at a news conference in Ethiopia's capital Addis Ababa May 16, 2005. President Carter, who led the Carter Center's delegation of 50 observers, said isolated reports of problems such as errors on electoral lists, some underage voting and failures to check identity cards would not affect the overall result.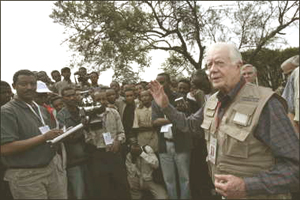 AFP PHOTO/Marco Longari
Former U.S. president Jimmy Carter briefs the press in a polling station at the Addis Ababa University. President Carter said that with the exception of long lines due to heavy voter turnout Ethiopia's general elections were proceeding smoothly with no major incidents. Ethiopia's opposition backed off a threat to reject nationwide results from the hotly contested elections it says were marred by fraud, saying their complaints were limited to key areas.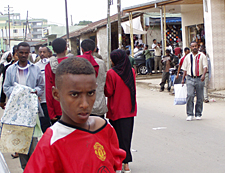 CARTER CENTER PHOTO: Kay Torrance

Ethiopians bustle with activity at Mercado, in Addis Ababa--Ethiopia's capital city--in the days preceding the historic elections. Mercado is Africa's largest open air market.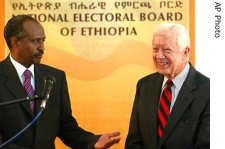 Former U.S. President Jimmy Carter meets with Kemal Bedri, chair of the National Electoral Board of Ethiopia May 13.