Feb. 12, 2005

FOR IMMEDIATE RELEASE
CONTACT: Jon Moor
404-420-5107


Snowbird, Utah....The Carter Center's 13th annual "Winter Weekend" live and silent auctions held Feb.12 in Snowbird, Utah, raised $875,036 to help support the Center's work to advance peace and health worldwide. The silent auction raised a record $42,936.55, with more online bidders winning valuable collectibles than ever before.

The highest bids were: $200,000 for President Carter's oil painting of the Carter Center grounds; $77,500 for a signed photo of Presidents Clinton, Ford, Carter, and Bush; $75,000 for another signed photo of those same presidents; $45,000 for a weeklong cruise on a 152-foot luxury yacht; and $40,000 for a diamond cross pendant.

"Rosalynn and I are grateful for the support our partners and friends show for the Center during our annual auction each year," President Carter said. "Their enthusiasm and belief in our mission inspires us and our staff at The Carter Center as we work to wage peace, fight disease, and build hope around the world."
####

Based in Atlanta, The Carter Center is a not-for-profit, nongovernmental organization founded by former U.S. President Jimmy Carter and his wife, Rosalynn, in 1982.The Center has helped to improve the lives of millions of people in more than 65 countries.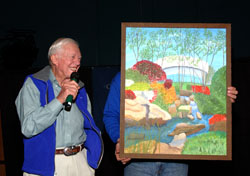 President Carter describes his original oil painting of the Center's grounds prior to its auction Feb. 12 in Snowbird, Utah. The painting was the highest winning bid of the "Winter Weekend" event.