Jan. 17, 2005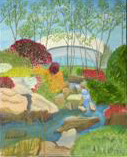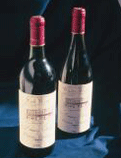 President Carter's workshop creations, including an oil painting of the Carter Center grounds and buildings and bottles of homemade red wine, are among the items to be auctioned during the Center's 2005 Winter Weekend.
To view
the 2005 Winter Weekend auction catalogs,
or to place a bid, click below
PLAINS, Ga. -- President Carter opened up his workshop here Jan. 19 for an exclusive, up-close look at how he creates his historic paintings, woodwork, and wine - some of which are auctioned to raise funds for the Carter Center's global humanitarian efforts.
This behind-the-scenes peek aired live on NBC's "Today" show during the 8 a.m. half hour. Matt Lauer, "Today" show co-host, interviewed President Carter.
President Carter's creations are among the items to be auctioned during the 2005 Carter Center Winter Weekend, set for Feb. 9-13 at Snowbird, Utah. Articles for both the silent and live auctions are posted on the Center's Web site, and bids are currently being accepted. The live auction will be held Feb. 12 at 8 p.m. (MST), during the annual fundraising event.