Oct. 11, 2004
This article appeared in the Sept. 13, 2004, Emory Report.
Billy didn't know he had only four more hours to live. As I watched our Ethiopian hosts load Billy (a name I'd given the small brown goat 20 minutes earlier as we got acquainted) into the cargo hold of the bus, I asked Ato Amsalu why we were bringing a goat on our day trip to the Sudanese border.

"The goat will be our lunch today," came his quick answer. With a laugh and a mischievous wink, Ato Amsalu (Ato means "Mr." in Amharic) trotted off to supervise Billy's seating arrangements. Surely he was joking. What use would a live goat be for lunch? Yes, he must have been joking. I was learning to spot a joke more quickly, as I had been - for the past week - an unwilling participant in more than one of my Ethiopian hosts' amusing schemes.

Our group, 30 faculty members from various Ethiopian universities and three Carter Center staff, was preparing to make the four-hour trek west to the small border town of Metema. Working with the Carter Center's Ethiopia Public Health Training Initiative (EPHTI), we had been in Gondar the past week for various planning meetings and were now going on a field trip to visit a rural health center and assess its operations. Our destination was the epicenter of the country's drought-relief efforts.

The drive to the border was bone rattling, and the one-way gravel road was way too close to the cliff edge for comfort. But there, on the edge of the Great Rift Valley, the northern Ethiopian landscape was breathtaking. The scenery was just one of many things I hadn't anticipated in the previous weeks as I thought about my upcoming trip to Africa.

Having been employed by the Carter Center for a mere eight days prior to my departure (which was also my first visit to Africa), I marveled at how much of a learning trip this was for me and how everything I encountered was so unexpected-from the spiciness of the food, to the people's love of a good joke, to the mountainous terrain of the North. Nothing was how I had imagined it would be.

Had anyone asked me a few months earlier if I would be traveling to Africa anytime soon or fending off Ethiopian practical jokes, I would have laughed and asked what planet they were from. Yet here I was, in a caravan bound for the Ethiopia/Sudan border - with still more expectations about to be turned inside out.

Our truck preceded the bus carrying Billy, and both stood out among the cattle herds and mule carts with which we shared the road. Then again, it was hard to miss our small caravan; our modern vehicles seemed out of place in this rugged and ancient countryside. And we were made acutely aware of how foreign we must have looked by the unwavering stares and doubletakes we received from passing locals; stopping once or twice to stretch our legs, we drew crowds of the curious each time.

Yet every single person we spoke with was friendly, almost jolly, as they went about their daily routines. Some liked to practice their English (especially the adults), but the children were shy, smiling and laughing among themselves. They especially loved having their pictures taken and squealed with delight when we showed them their digital images on our cameras. When we reached Metema, we drove through the maze of huts and shelters to the center of the small town. At a local "restaurant," of sorts, Billy disembarked with his handler while the rest of us continued on to the health center a few minutes further past the residential dwellings. Pulling up to the building, the first thing I noticed was conspicuously sick people, several of them, lying throughout the yard and huddled across the front porch. Even though the official "waiting area" of the center was a lean-to in the front yard, most of those waiting to see a doctor preferred the little shade the porch or side of the building offered.

As we exited the vehicles, those who were able turned their heads to watch these strange visitors who had come to tour their temporary home. Most had been waiting days to see a doctor or nurse; there were simply not enough health care workers to see everyone who arrived each day.

There was no glass in the building's windows, and most of the examining rooms didn't have doors. Electricity was sporadic, coming from a small generator cranked up as needed for surgical operations. As our guide gave us a tour, he mentioned that the health center - which served an area about the size of Fulton county - had but one stethoscope for all the doctors to share. And there were no thermometers.

A hospital with no thermometers? I was stunned.

Occasionally we had to step over patients lying on the exterior walkways as we made our way from room to room, taking stock of what was needed to improve access to this rural area's health care. Obviously we put stethoscopes and thermometers on the list, but some way to sterilize equipment also was a top priority. Most U.S. hospitals use an autoclave to heat instruments and rid them of bacteria; in Metema, nurses boiled water.

Another top need was some sort of vehicle to act as an ambulance. The motorcycle the center currently used was unreliable, and trauma cases tend to have trouble holding on to the driver. If patients cannot get themselves to the health center, there is nothing the staff can do for them.

In a country of nearly 71 million citizens, there are but seven trained psychologists. Seven for 71 million. Imagine living where there is no doctor, no dentist, no psychologist to offer trained medical assistance when you need it.

Situations like these are all too common not only in Ethiopia but in too many other countries as well. It is because of this lack of trained health care workers that Prime Minister Meles Zenawi invited former President Jimmy Carter to assist with capacity building and health training in his country. EPHTI is the resulting partnership formed to address this shortage. One of EPHTI's main goals is to support the training of health workers through collaboration with seven Ethiopian universities, which help design curricula and practical training programs, and to facilitate bringing those workers to the front lines of health care, where they're needed.

Indeed, as we rode back to the restaurant in the center of town, I thought about how lucky I was to live close to a hospital with plenty of doctors, nurses and all the equipment it needs. We sat down for lunch.

I considered how much of a difference a good health care system makes in the lives of everyone in the community.

I felt compelled, as the delicious aroma of stew wafted through the room, to do what I could in my new job to help make that happen in Ethiopia. Everyone deserved to have those basic human needs met. These were, after all, beautiful and warm people who knew how to live life happily. Their infectious laughter bounced off the walls as we began our meal.

Ato Amsalu leaned over to me with a smile. "How's that goat taste?" I stopped chewing and looked down at my plate.

Oh no, Billy. There went another expectation, this time about how to pack a lunch.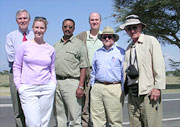 Photos: Carter Center/J. Murray
Shelly Brownsberger (above), senior program officer, Ethiopia Public Health Training Initiative, and other Carter Center officials make a stop en route to Addis Ababa from Awassa. Pictured with Ms. Brownsberger, from left: Dr. John Hardman, executive director, The Carter Center; Fekadu Tsige, driver for the Center's EPHTI field office in Addis Ababa; Dr. Greg Fricchione, EPHTI consultant; Craig Withers, director of program support; Dr. Dennis Carlson, EPHTI senior advisor.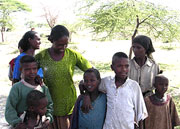 Nomadic families, such as the members of the Oromo ethnic group above, will soon benefit from the EPHTI "Health Extension Package" being developed with Ethiopia's Ministry of Health. Trained groups of mobile health care workers will travel from village to village to provide health care and education to the nomadic people of Ethiopia - those who have traditionally not received adequate health care.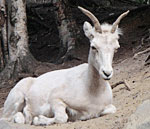 Billy's cousin enjoys a respite before the next lunch.