By Don Melvin
Cox News Service
(Reproduced with permission)

SEKYEDUMASE, Ghana - The fruits of an agricultural revolution taking place today in Ghana can be seen not only in the growing incomes of farmers but also in the healthy faces of children.

With the help of the Atlanta-based Carter Center, this revolution has swept over much of Ghana and attracted the attention of other countries in West Africa and beyond.

Powerful forces like AIDS and war often hinder the efforts of Africans to escape poverty and illness. But those forces are opposed in some small measure by the seed that has taken root in Ghana - an altered form of corn known here as "obatanpa," or "good nursing mother."

Scientists call it by a more prosaic name: quality protein maize. It is like normal corn in all respects but two, it yields more corn per acre and it contains better protein.

The higher yield is important in a country where 60 percent of the workers are small farmers. The better protein is critical in a country where corn porridge is used to wean babies from their mothers' breasts.

The details of proteins can sound technical to the layman. But there is nothing technical about the effects Nana Akosua has seen in her children.

The family lives in the village of Sekyedumase, 70 miles north of the city of Kumasi.

Akosua's oldest child, a boy named Augustine, was born before obatanpa was introduced to the village, and before the government began a program to teach mothers about infant nutrition.

When he was two months old, Akosua started adding koko, a corn porridge, to Augustine's diet of breast milk.

Unbeknownst to her, normal corn has very low amounts of Lysine and Tryptophan, two amino acids essential to human life. Augustine was sick often with diarrhea and fever.

By the time Akosua gave birth to her second child, Phyllis, the village had switched to obatanpa, which has been bred to have much higher quantities of those two amino acids, making its protein more complete.

Akosua fed Phyllis exclusively on breast milk for six months, as she was taught. When she weaned the baby, she used koko made with obatanpa. Today, Augustine is 13 years old. Phyllis is 10. They are virtually the same height. And that's not all.

"The girl is very clever," Akosua said proudly. "She is the first in her class."

One of her classmates is Augustine, who has been held back twice. The siblings, three years apart, are equally tall and in the same class.

Anomalies happen, but Akosua says she knows why her children turned out differently. "I think it is because of the diets," she said.

There is no anomaly in what has happened in this area. Ten years ago, about half the children in this district were malnourished, said Abenaa Akuamoa-Boateng, a regional nutrition officer for the Ghana Health Service. By last year, the rate had dropped to 8.7 percent.

Education has helped, as have small loans designed to provide people with income to tide them over between harvests. But, in an area where babies were eating sufficient food and getting insufficient nourishment, the new corn, too, has helped a lot.

And the reduction in malnutrition coincides precisely with the period of time that the Carter Center, led by former President Jimmy Carter, worked to introduce quality protein maize in the region. The Carter Center worked in partnership with the Sasakawa Africa Association, led by Norman Borlaug.

Borlaug is the "green revolution" agronomist best known for high-yield agricultural techniques that eased food shortages in India and Pakistan in the 1960s. He won the Nobel peace prize in 1970. Carter was awarded the prize in 2002.

Scientists began developing quality protein maize from a strain of Andean corn found in the 1960s to have higher-than-normal levels of Lysine and Tryptophan. But it was difficult to get a variety that tasted as good as normal corn, or resisted disease as well, or offered as high a yield, or had appealing color and consistency.

The work was shelved for a while, as critics scoffed that feeding a child an egg a day was a simpler solution to inadequate
protein.

But other experts said that advice was of little use where families could not afford an egg a day. The work was revived in the 1980s, particularly in Ghana where, with help from the Carter Center and the Sasakawa association, local experts developed a quality protein strain that matched traditional corn in taste, texture and color.

"It's equal to mother's milk," Carter said. "It's a complete food."

And the yield is 50 percent higher than for normal corn. The economic benefits can be seen in the village of Enyinase, 10 miles east of the city of Cape Coast.

"Our standard of living has changed," said Seth Apecu, the secretary of a local farm group. "Since obatanpa, I have been able to put up a mansion. In this village, everybody who is cultivating obatanpa has put up a new building."

Ernest Asiedu, a Ghanaian seed technologist, estimated that 30 percent of the corn in Ghana is now quality protein maize.

The work in Ghana is now sufficiently supported by the Ghanaian government and local enterprise that the Carter-Sasakawa partnership ended its country program there on Dec. 31. But the partnership, known as SG2000, continues in the region, said Wayne Haag, an SG2000 official who has worked on quality protein maize for many years.

Ghana is by no means the only African country where corn is a staple food. And it is not the only country which has the potential to benefit from high-protein corn.

"We've taken seed products from Ghana and introduced them in other countries throughout Africa," Carter said.

Officials from other African countries, including Tanzania, Malawi, Ethiopia, Mali, Guinea and Senegal, are studying Ghana's experience.

"Ghana, in a way, has been a pioneer," said Haag.

Don Melvin is an international correspondent for Cox Newspapers. This article was originally published on March 3, 2004.

Learn more about the Carter Center's Agriculture Program and about
the Center's work in Ghana.

Carter Center Photo: A. Poyo

A worker hand-picks quality protein maze kernels that remain ater the ears have gone through a stripping machine. The Atlanta-based Carter Center helped introduce the enhanced corn variety, which offers better protein and a higher yield.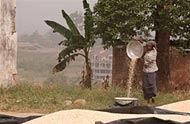 Carter Center Photo: A. Poyo

An altered variety of corn called quality protein maize ("obatanpa" to locals) has dramatically improved life in Ghana.