May 31, 2003
Field Staff Profile: Aklilu Mulugetta
Aklilu Mulugetta knows firsthand the frustration of having the knowledge-but not the resources-to help his fellow Ethiopians help themselves. That is, not until he joined the staff of the Carter Center's Ethiopia Public Health Training Initiative.

Since 1998,Aklilu has been part of the Center's collaborative effort with the government of Ethiopia to develop educational materials for health services in more than 600 health centers throughout the country. Based in the capital city of Addis Ababa, the initiative's goal is to produce learning materials specifically designed to address health issues that affect Ethiopia, to strengthen Ethiopian teaching staff, to assist in improving practical training environments in surrounding communities, and to enhance the learning environments.

The 51-year-old native Ethiopian, married for 20 years and the father of three, is the initiative's senior business manager and previously worked for Project HOPE, USAID/CARE, and BASICS. EPHTI's many projects include coordinating workshops and developing lecture notes and teaching modules for health educators at the five sponsoring universities: Gondar, Jimma, Dilla, Alemaya, and Addis Ababa.

"Mostly what I do now is to coordinate university staff working on their lectures, the modules preparation, and any other programs that The Carter Center places on me here in Addis Ababa," Aklilu said.

Word of the initiative's success is spreading throughout the country. "The Carter Center has been a real model for other faculties," Aklilu explained. "For example, they are thinking of replicating the initiative programs in other faculties in the same university. This means that the initiative has drawn the attention of the public, scholars, and even the government by being able to bring together trained professionals to develop materials for college/university education with very little in the way of resources.

"The Center should be really proud that this initiative has, in essence,doubled up real interaction between the universities," he explained. "University staff from different institutions are really close to each other, sharing their professional experiences and learning different approaches to solve problems encountered when they come together. That is a really great achievement."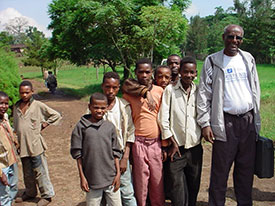 Photo: Carter Center/Laura Lester
Aklilu Mulugetta (r.), pictured with children from the community, plays a key role in coordinating workshops and developing teaching modules for the Center's Ethiopia Public Health Training Initiative.