Oct. 26, 2003
FOR IMMEDIATE RELEASE
CONTACT: Alison Reeves
(202) 857-7793
areeves@ngs.org
IMPACT: From the Frontlines of Global Health
Meeting Challenges Facing Our World Today
WASHINGTON...."How can we heal our planet and achieve an Earth that nurtures humanity and nature in all their diversity?" asks former president Jimmy Carter in his introduction to a new book from National Geographic that takes a sweeping look at the human condition, the state of the world's health and the challenges facing us in the 21st century.

IMPACT: From the Frontlines of Global Health (National Geographic Books, ISBN 0-7922-6372-3 October 2003, $30), by award-winning National Geographic photographer Karen Kasmauski and science and health writer Peter Jaret, examines the global conditions under which disease and epidemics emerge. The book's introduction is by Donald R. Hopkins of The Carter Center. (Read Dr. Hopkins' introduction.)

"As individuals, we can…extend care to others. As communities and as nations, we can educate our citizens, legislate ethically and wisely, and support organizations that conduct research and help those who are ill," Carter writes. "Perhaps the most important challenge is to share wealth, opportunities, and responsibilities between the rich and poor - for a world where the chasm between rich and poor grows wider will be neither stable nor secure." (Read President Carter's foreword.)
From the rivers of Africa to the streets of India to the living rooms of North America, people face new and renewed threats to their health and security. Thirty previously unknown diseases have emerged in the past 25 years, among them HIV/AIDS, SARS and West Nile virus. In addition, improper use of antibiotics, poor sanitation and lack of clean drinking water are partly to blame for old foes like tuberculosis and influenza thriving and developing more resistant strains.

IMPACT examines the many factors that allow diseases to spread so easily around the globe - overpopulation, environmental disruptions, jet-age travel, political and social upheaval, our sedentary lifestyle, and many more. Yet, far from being just a litany of what ails world health, the book is also an inspiring story of people and institutions that are succeeding in improving life for millions.
Kasmauski's compelling photographs, taken in five continents over 15 years, portray the global reach of disease and the attempts of those working to eradicate it. From a child awaiting immunization in Bangladesh to TB testing among Siberian prisoners to pigs being bred to give off proteins in their milk that will help hemophiliacs, Kasmauski's images reflect the quest to give everyone on this planet a fair chance at a healthy life.

Jaret's powerful essays document both the suffering around the world as well as the heroic efforts of scientists and healers to alleviate the suffering. The book records the great progress being made in immunizing children against measles - up from 5 percent in the 1970s to 70 percent in the 1990s - and the work being done to eradicate polio, Guinea worm disease, lymphatic filariasis and river blindness. It tells of women in Third World countries who, through education, are being empowered to make decisions about the number of children they bear and, through economic opportunities, can earn money for health necessities such as mosquito netting and safe water storage containers. It describes the efforts of long-established groups like the Centers for Disease Control and Prevention as well as the growing number of private organizations, such as the Carter Center and the Bill and Melinda Gates Foundation, that are aggressively finding and funding new opportunities for stamping out disease.
Kasmauski is a National Geographic Contributing Photographer-in-Residence. Her groundbreaking coverage of viruses, women's health, aging and many other critical topics have appeared regularly in National Geographic magazine. Her radiation coverage won top honors in the annual Pictures of the Year competition as well as special recognition in the Magazine Photographer of the Year category.

Jaret has published more than 300 articles on health and medicine over the past 20 years in publications such as Newsweek, Reader's Digest, Vogue and National Geographic. He has written several books on health subjects, including "Self Defense: The Human Immune System." Publication of IMPACT was enabled by the generosity of GlaxoSmithKline and with the collaboration of the Centers for Disease Control and Prevention and The Carter Center.
###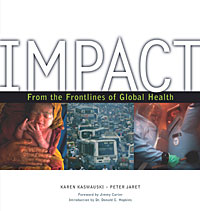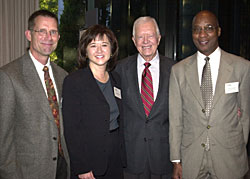 PHOTO: ANNE MARIE POYO

President Carter joins Dr. Hopkins (r.), photographer Karen Kazmauski, and health writer Peter Jaret (l.) during a reception for IMPACT held Oct. 15 at The Carter Center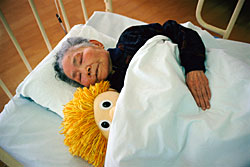 PHOTO: KAREN KAZMAUSKI

As the world's population ages, care of the elderly--such as this 87-year-old Japanese woman napping in a day care center--becomes an increasing economic and emotional burden.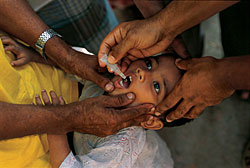 PHOTO: KAREN KAZMAUSKI

Two drops of oral polio vaccine will protect a Bangladeshi boy from a scourge that once crippled millions of children.