Sept. 2, 2003
Former U.S. President Jimmy Carter and former First Lady Rosalynn Carter promoted the Carter Center's peace and health programs during a recent tour of Japan and China.
The couple traveled to Japan Sept. 4-6 where President Carter met with Prime Minister Junichiro Koizumi and other government officials to discuss the Center's programs to increase agricultural production and eradicate Guinea worm disease in Africa.
In addition, President Carter attended a meeting of the Sasakawa/Global 2000 Agricultural Program.
Read the complete press release on the Carters' trip to Japan.
On Sept. 8, President Carter opened a Beijing conference on village elections and met with government officials in support of the Carter Center's China Village Election Project.
Read the complete press release on the Carters' trip to China.
Read the latest news from Japan and China:

President Carter's Trip Report

Full Text: President Carter's Speech to Beijing University (also known as Peking University)
(Delivered Sept. 9, 2003)

Full Text: Sixth U Thant Distinguished Lecture, United Nations University, Tokyo, Japan
(Delivered Sept. 5, 2003)

Carter Urges China to Widen Democracy
(Atlanta Journal Constitution)

Former U.S. President Carter Urges China to Enshrine Local Democracy in its Laws
(Associated Press)

Carter Issues Warning on North Korea Standoff
(New York Times)

Former U.S. President Carter calls for Aung San Suu Kyi's release
(Agence France Presse)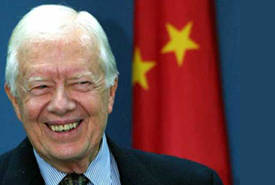 PHOTO CREDIT: AP/NG HAN GUAN
Former President Jimmy Carter smiles as he meets the media for a question and answer session in the U.S. Embassy in Beijing Sept. 4, 2001.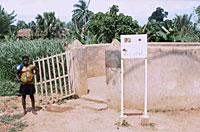 PHOTO CREDIT: EMILY HOWARD
A young girl in Togo stands in front of a hand water pump purchased by the Government of Japan, a Carter Center Health Program Partner.